How Meghan Markle banished rumors of a feud with one of her most iconic outfits
Meghan managed to shut down rumors of a feud in the best way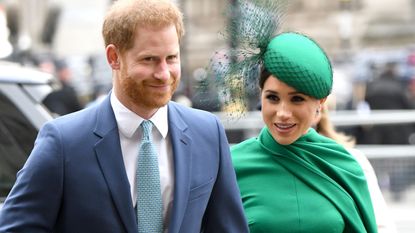 (Image credit: Photo by Karwai Tang/WireImage/Getty Images)
Meghan Markle shut down rumors of an awkward feud by using her fashion sense in a powerful way on her and Prince Harry's final royal engagement, according to a royal expert.
---
As she and Prince Harry attended the 2020 Commonwealth service at Westminster Abbey in March of 2020, Meghan was a vision in green.
The Duchess of Sussex opted for the gorgeous look designed by Emilia Wickstead, which is believed to have been her way of squashing rumors that she and Emilia had bad blood.
The designer, who has creations in Kate Middleton's collection of best dresses, sparked reports that she and Meghan had tension after she called the Duchess' Givenchy wedding gown "simple".
However, Emilia's comments are said to have been "taken out of context" and Meg proved that she hadn't taken offence to them by opting for an Emilia design for the special day, according to Christine Ross, host of Us Weekly's Royally Us podcast.
"One of the most iconic looks is going to be her green Emilia Wickstead cape dress.
"That cape blowing in the wind as she walked into the church and then walked out of the church, which was such an emotional moment for so many people as it was their last formal engagement as royals," she said on the Mirror's Pod Save the Queen podcast.
"It was a pull quote from a larger interview, she really didn't say anything negative," Christine said of Emilia's comments on Meghan's dress.
"People thought Emilia Wickstead had really wronged Meghan, and it turned out that Emilia Wickstead hadn't wrong Meghan, it was a pull quote."
Speaking on the epic way Meghan told the world that she and Emilia were not on bad terms, she continued, "Maybe a month or so later Meghan actually wore a custom Emilia Wickstead dress, and that situation shows the power of Meghan's fashion choices.
"She was able to say with this fashion choice, Emilia Wickstead and I are great. We're on great terms, that whole thing was a huge misunderstanding and look at the lovely dress she designed for me."