How George could follow in Charles's footsteps with special honor for little brother Prince Louis when he is King
Prince George could follow in King Charles's footsteps and give his brother a special honor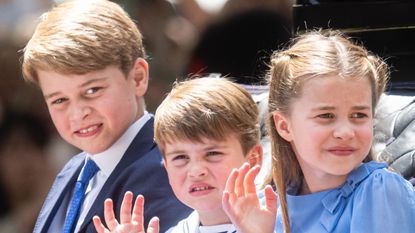 (Image credit: Getty Images)
It's been predicted that Prince George could follow in his grandfather's footsteps to bestow a special honor on his little brother, Prince Louis, when he becomes King.
With Prince George set to become King some day, it's thought that he may offer his little brother, Prince Louis, a special title in the same way King Charles has.
King Charles recently gave his youngest brother, Prince Edward, their father's former Duke of Edinburgh title, with Sophie Wessex becoming the Duchess of Edinburgh.
In other royal news, Kate Middleton's selfless sacrifice for Prince George and Princess Charlotte that defied years of tradition has been revealed.
---
Following the death of Prince Philip at Windsor Castle in April 2021, his iconic Duke of Edinburgh title was left untaken.
However, after taking the throne from the late Queen Elizabeth II in September 2022, King Charles bestowed the special royal privilege on his brother, Prince Edward, ahead of the monarch's long-awaited coronation in May of this year, which is set to be watched around the world by millions.
To mark Prince Edward's 59th birthday on March 10th, King Charles announced that he had granted his brother the Duke of Edinburgh title, with his wife Sophie becoming the Duchess of Edinburgh and their son James taking Edward's old title to become the Earl of Wessex.
Meanwhile, Edward and Sophie's daughter, Lady Louise Windsor, was the only one in the family-of-four to be denied a title change, as the only remaining descendant of Queen Elizabeth II to keep the Mountbatten-Windsor name.
"Wishing the new Duke of Edinburgh a very Happy Birthday today! The King has conferred the Dukedom of Edinburgh upon his brother, Prince Edward, on his 59th birthday," a statement confirmed as Charles shared a birthday wish to his brother on social media.
Now, it has been predicted that Prince Louis is set to take on the Duke of Edinburgh title next, as Prince George could replicate Charles's decision to give the honor to his younger brother, when the nine-year-old eventually takes the throne.
This is because the Duke of Edinburgh title isn't hereditary, so Prince Edward won't be allowed to pass the honor down to his son James when he passes away and the title will be returned to the Crown.
Meanwhile, although it was claimed that King Charles was considering giving Princess Charlotte the Duchess of Edinburgh title, it's likely that she will take on the title of Princess Royal eventually, so probably won't be given the Edinburgh name when it is available once again.
The Princess Royal title is traditionally given to the eldest daughter of the monarch, so Princess Charlotte is expected to some day take the special title when her father, Prince William, becomes the King.
All of this means that Prince Louis is likely at the top of the list to become the Duke of Edinburgh when his older brother takes the throne, with George set to repeat history and copy his grandfather's act of bestowing the name on his little brother.
Meanwhile, a royal expert has predicted that Prince William and Princess Catherine are taking extra care to ensure that Prince Louis doesn't feel left out as the youngest of the three royal Wales children.
With Prince George second in line to the throne, with seven-year-old Charlotte and four-year-old Louis in third and fourth place, royal author Tom Quinn claims that there is a risk of Louis feeling like a "double spare".
"I think because the royal family now is so aware of the mistakes that they've made in the past, especially with bringing up children," he told the Express.
"I think they will make enormous efforts to make sure that Louis doesn't feel like a lost soul."