The hidden meaning behind the Queen's ruby tiara which was banned in the US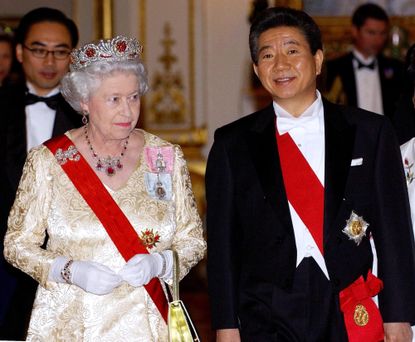 (Image credit: Tim Graham Photo Library via Get)
The Queen owns a stunning ruby encrusted tiara which is a controversial piece despite it being one of her favourites - here's why.
The rubies were a wedding gift to the Queen from the people of Myanmar for her marriage to Prince Philip back in 1947.
The tiara was once banned in the US, though this has since been lifted.
Why was the Queen ruby tiara banned in the US?
The rubies were banned in America in the early part of the 21st century.
This was part of President George W Bush's continued sanctions on Myanmar for its military regime.
However, in 2016, President Barack Obama lifted these sanctions and the subsequent ban on the ruby tiara.
The Queen wore the tiara at a state dinner in 2019, when the monarch hosted US President Donald Trump at Buckingham Palace.
What is the hidden meaning behind the ruby tiara?
According to its makers, the House of Garrard - one of the world's most famous jewellery makers - the 96 rubies featured in the tiara have a special meaning.
In Burmese culture, rubies are said to protect against evil and illnesses.
This is something which experts have picked up on, given that the Queen wore it while meeting controversial Donald Trump.
The Queen also wore matching earrings and a necklace featuring the rubies for the meeting.
The rubies and diamonds, which are set in gold and silver, are in a series of Tudor rose patterns across the tiara and is thought to be one of the Queen's favourite pieces.
Speaking about the piece, Alexandra Michell, Gemologist of Prestige Pawnbrokers Hatton Garden said: "The Burmese Tiara is a fairly modern addition to the Crown Jewels, in comparison to the extensive royal collection.
"The estimated value of this symbolic piece is £7,000,000."
Robyn is a celebrity and entertainment journalist and editor with over eight years experience in the industry. As well as contributing regular to woman&home, she also often writes for Woman, Woman's Own, Woman's Weekly and The Sun.