The Queen's rule that all female royals, including Duchesses Catherine and Camilla, must follow
The royal family has to follow protocol wherever they go – including this specific rule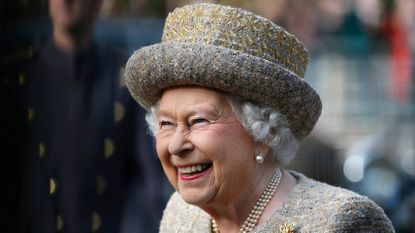 (Image credit: WPA Pool / Pool via Getty)
Did you know that Queen Elizabeth has a strict set of rules that members of the Royal family must follow at all events and formal gatherings?
What rules does the Queen have in place for royals?
First to walk into any room, of course, is Her Majesty the Queen. She is followed by her husband Prince Philip and then their eldest son, Prince Charles, and his wife Camilla, Duchess of Cornwall (opens in new tab).
Next to enter is Prince William, the Duke of Cambridge, followed by his wife Catherine Duchess of Cambridge (opens in new tab).
Female Royal family members are also taught to walk down stairs in a particular way for such events, too. It's also common knowledge that if Her Majesty stands, everyone else must stand, too, and she must be greeted with a bow or curtsy. Meghan Markle recently revealed that this member of the royal family taught her to curtsy before meeting the Queen (opens in new tab).
According to Reader's Digest, royal women are also taught a specific technique for walking down the stairs at formal royal engagements. Firstly, they are instructed to keep their chins parallel to the ground with their hands by their sides. Looking down at the stairs while walking is not allowed. And if there is a banister they may rest their hand on it, but not grip it tightly.
Reader's Digest also reports that female royals should keep their toes pointed toward the railing while they walk and move at a steady pace.
And for the Queen's royal dinner parties, there are also rules relating to how many people are invited. The monarch makes sure there are never more than 13 guests at a royal banquet at Buckingham Palace (opens in new tab).
Royal expert Paul Dampier once told The Sun, "[The Queen] won't let 13 people sit down at a dinner table, not because she is superstitious but in case guests are." Who knew?
At a royal dinner party the Queen's conversation time is also meticulously planned: according to Harper's Bazaar, she speaks to the person seated on her right during the first course, then to her left during the second course.
The Queen also approves all menus at Buckingham Palace days before a dinner party takes place. Harper's Bazaar has previously reported that garlic will never feature in any dishes the Queen eats. The ingredient is left out of all preparations for dinners that she attends or hosts, as she is not a fan of the common ingredient.
The publication also reports that shellfish is always off the menu at royal events because of the potential for food poisoning, as well as being a known allergen.
Robyn is a celebrity and entertainment journalist and editor with over eight years experience in the industry. As well as contributing regular to woman&home, she also often writes for Woman, Woman's Own, Woman's Weekly and The Sun.