Was Harry and Meghan's 'step back' inevitable? The warning signs that the couple were always likely to take a different path
The couple have, arguably, always done things differently to the rest of the senior royals...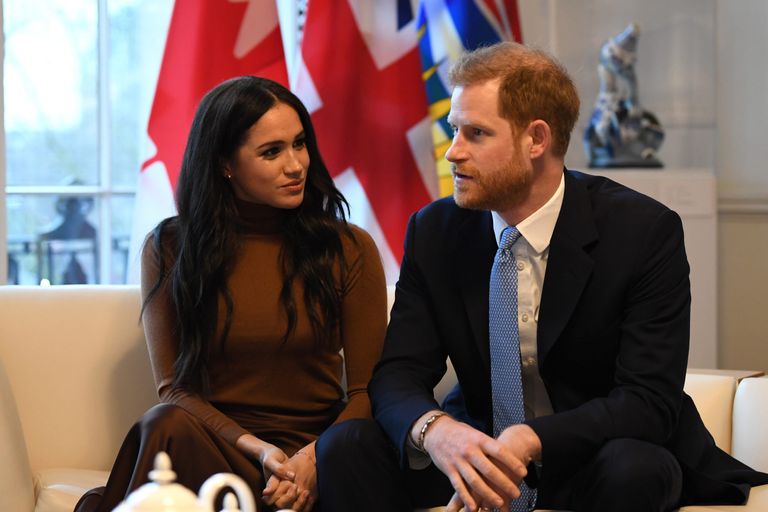 (Image credit: Getty Images)
Last night, the Duke and Duchess of Sussex made the bombshell announcement that they are planning to take a 'step back' from their role as senior royals, and work to secure 'financial independence' from the monarchy.
The couple - who recently returned from a 6-week private family break in Canada - released a statement on their SussexRoyal Instagram account, explaining their decision.
Meghan and Prince Harry also revealed that they now plan to divide their time between Britain and North America, "continuing to honour our duty to The Queen, the Commonwealth, and our patronages."
After a whirlwind few years, following Meghan's entrance into the royal family, their Windsor wedding, and the birth of their baby Archie Harrison Mountbatten-Windsor in 2019, the groundbreaking revelation from the royal couple has caused shockwaves across the world, and left the monarchy itself on undeniably shaky ground.
Arguably, there were hopes for the Duke and Duchess of Sussex to become the royal family's golden couple across the globe - using their star power to make a difference internationally, and become a beacon of the future of the monarchy.
MORE:Royal Family issues shocking reply to the Duke and Duchess of Sussex's surprise announcement
But now, it seems that is all set to change. So what were the steps leading up to the couple's extraordinary decision - and were there warning signs that this was the path they were always going to take?
After all, Prince Harry has long been candid about how he's struggled with his role as a member of the royal family, even admitting that he was close to leaving after being forced out of the army in 2013.He admitted to feeling, "very resentful" of his family after that, so much so that he almost decided to leave 'the firm'. Harry said,"I felt I wanted out but then decided to stay in and work out a role for myself."
And perhaps now, with Meghan by his side, it's time for him, and her, to do just that.
November 2016 - Prince Harry issues statement in defence of girlfriend Meghan Markle against the media
In an unprecedented move back in 2016, Prince Harry issued an official palace statement speaking out about the swirl of media stories surrounding his then-girlfriend Meghan Markle.
The Prince, although acknowledging the interest in his personal life, publicly berated the negative press and attention, issuing a plea to those involved to cease fire.
The statement read, 'Prince Harry is worried about Ms. Markle's safety and is deeply disappointed that he has not been able to protect her. It is not right that a few months into a relationship with him that Ms. Markle should be subjected to such a storm. He knows commentators will say this is 'the price she has to pay' and that 'this is all part of the game'. He strongly disagrees. This is not a game - it is her life and his.
'He has asked for this statement to be issued in the hopes that those in the press who have been driving this story can pause and reflect before any further damage is done.'
Looking back now, this was arguably the first sign that Prince Harry and Meghan Markle would always take a firm stance on negative press attention. And of course, the fact that such stories escalated as their relationship continued, seems to suggest they may always have been keen on taking a step back from the spotlight...
June 2017 - Harry admits in interview that no one wants to be monarch
In an interview with Newsweek, the royal confessed that no one in the royal family really wants the 'top job', suggesting that being a senior royal was never particularly Harry's desire.
Of the younger royals, he said, "We are involved in modernising the British monarchy. We are not doing this for ourselves but for the greater good of the people,"
And, sharing clearly his thoughts on the most senior of royal roles, Harry made it obvious that he has no wish for that role. He said, "Is there any one of the royal family who wants to be king or queen? I don't think so, but we will carry out our duties at the right time."
November 2017 - Harry and Meghan announce their engagement - and reveal that they know it won't be 'easy'
Of course, however, it's not all been tricky for the couple - with some very happy times in the last three years too.
On 27th November 2017, Clarence House announced that Harry and Meghan were engaged to be married. The pair posed for photographs and showed off the engagement ring in the gardens of Kensington Palace, before a BBC interview where they shared their excitement for the future.
When Prince Harry was asked if he felt a sense of responsibility for what he was asking of Meghan, he responded, explaining that they will be a team in whatever they go through.
"It's not easy for anybody. But I know at the end of the day, she chooses me and I choose her, and therefore whatever we have to tackle together or individually, it will always be us together as a team." Harry said.
December 2017 - The couple go on their first joint public royal engagement in Nottingham
The pair certainly hit the ground running, heading off of their first joint visit together just days after announcing their engagement.
The couple were met by hoards of adoring fans in the streets of Nottingham, before attending the Terrence Higgins Trust charity fair, in honour of World Aids Day - a charitable passion of Harry's mother, Princess Diana.
This visit marked the start of the couples lives as senior working royals, and early on, pointed to their commitment to their charity work.
May 2018 - Harry and Meghan get married at Windsor Castle
Things were made official on 19th May 2018, when Harry and Meghan tied the knot at St. George's Chapel within the grounds of Windsor Castle.
Crowds of well-wishers turned out for the big day - which took place on a particularly sunny afternoon for the time of year - as the couple took a carriage round around the town that was set to become their home. Shortly after their wedding day, they were awarded the royal titles of the Duke and Duchess of Sussex.
October 2018 - The newlyweds announce that they are expecting
As they embarked on the first day of their official royal tour of Australia, Fiji, Tonga and New Zealand, the Duke and Duchess shared the lovely news that they were expecting their first child.
The Duchess did not share how far along in her pregnancy she was, but the public was told that the baby was due in Spring 2019.
June 2019 - Meghan and Harry reveal decision to split from William and Catherine, following rumours of rift between the brothers
In a step that now appears to be a clear sign of Harry and Meghan's latest decision, back in the summer the Duke and Duchess of Sussex revealed that they were splitting their charitable endeavours and offices from that of the Duke and Duchess of Cambridge.
It marked the end of the 'Fab Four', and arguably provided a strong indiction that Meghan and Harry were keen to forge their own path within the monarchy.
The move also appeared to confirm rumours that had been circulating for months at the time, that brother Prince Harry and Prince William had been at odds for some time, and were struggling to see eye-to-eye.
May 2019 - The couple break with royal tradition when Baby Archie is born
On 6th May 2019, Master Archie Harrison Mountbatten Windsor was born.
The couple revealed their determination to do things differently during the birth of their son, choosing not to take what have now become the traditional press pictures on the steps of the hospital, taken hours after the birth.
Instead, the Duke and Duchess of Sussex returned home from the London hospital where Archie was born before enjoying a few days privately with their newborn - posing for pictures with their son in Windsor Castle around three days after Archie entered the world.
It proved that Meghan and Harry were keen to set their own path, and do things their own way when it came to the monarchy, as it was a markedly different approach than the one both Duchess Catherine and Princess Diana had taken, when they had their children.
September 2019 - Harry and Meghan share their intention to sue UK newspapers
On the final day of their 2019 visit to South Africa, the royal couple released an emotional statement, sharing their intention to take legal action against various UK newspapers for stories they called 'misrepresentation.'
The statement, once again, was deeply personal, with Harry admitting that he has been 'a silent witness to her [Meghan's] private suffering for too long'.
It read, 'Unfortunately, my wife has become one of the latest victims of a British tabloid press that wages campaigns against individuals with no thought to the consequences - a ruthless campaign that has escalated over the past year, throughout her pregnancy and while raising our newborn son.
'There is a human cost to this relentless propaganda, specifically when it is knowingly false and malicious, and though we have continued to put on a brave face - as so many of you can relate to - I cannot begin to describe how painful it has been.'
And, referencing Princess Diana, Harry continued, 'Though this action may not be the safe one, it is the right one. Because my deepest fear is history repeating itself. I've seen what happens when someone I love is commoditised to the point that they are no longer treated or seen as a real person. I lost my mother and now I watch my wife falling victim to the same powerful forces.'
October 2019 - The Duke and Duchess of Sussex confess their unhappiness over life as royals in explosive documentary
In perhaps the most telling sign that Harry and Meghan would eventually take a step back from their roles within the royal family, the couple opened up in an explosive ITV documentary about how difficult they had found the scrutiny on their lives together so far, and the unfair press attention.
Meghan in particular shared how difficult she has found life in the royal spotlight, telling host Tom Bradby, "I never thought that this would be easy, but I thought it would be fair and that's the part that's really hard to reconcile."
The Duchess also said, "I've said for a long time to H—that's what I call him—it's not enough to just survive something, right? That's not the point of life. You've got to thrive, you've got to feel happy. I really tried to adopt this British sensibility of a stiff upper lip. I tried, I really tried. But I think that what that does internally is probably really damaging."
The interview finished with Meghan admitting she 'didn't know' how much longer she could stand things as they were - which perhaps means that the couple's recent decision to step back from the monarchy should come as not much of a surprise at all.
So what's next for the royal couple?
Following Harry and Meghan's statement, Buckingham Palace issued their own, explaining that it would take a long time to sort out the Sussexes separation from the family.
It said, 'Discussions with the Duke and Duchess of Sussex are at an early stage. We understand their desire to take a different approach, but these are complicated issues that will take time to work through.'
Now, it seems, only time will tell when it comes to the Sussexes future.
If you have any burning questions about what this move means for the royal family and Harry and Meghan, visit our sister site, GoodtoKnow, for all the answers.
What do you think about the Duke and Duchess's latest decision?