The Duchess of Sussex picked a very special dress for first appearance since controversial ITV documentary
She looked stunning!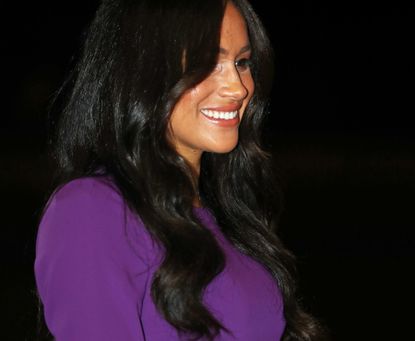 The Duchess of Sussex constantly makes the headlines for her fabulous wardrobe choices, so, naturally, her outfit for an event last night has got people talking.
The Duchess of Sussex recycled a £29 purple dress that she previously wore when she was pregnant with Archie.
Meghan wore the dress last night when she attended theOne Young World summit.
This follows theroyal newsthatthe Duchess opened up about her struggles in a ITV documentary.
The Duchess of Sussex arrived at the One Young World summit last night in a familiar purple dress.
The royal last wore the £29 dress back in January, when she was pregnant with her first son, Archie.
The Duchess matched it with a pair of £540 Manolo Blahnik heeled pumps - also recycled from her royal wardrobe.
The navy suede shoes were the same pair in which she attended Princess Eugenie's wedding in October, last year.
Previously she accessorised the purple piece with a bright red coat and shoes.
The vibrant dress is from Canadian brand fashion boutique Aritzia, and was originally priced at £81 but has since been reduced to £29.
Unfortunately, the dress has sold out in every size in the purple shade, but is still available in black.
She wore her hair down for the event, which was hosted at the Royal Albert Hall. A change from her usual up-do.
The outing was the first engagement since she revealed she and Prince Harry had been struggling with the pressures of royal life, in an ITV documentary which aired at the weekend.
The pair are rumoured to be taking a six week break in November, following revelations from their recent interviews.
Many have been quick to point out that the colour purple has long been associated with royal dressing. So much so in fact, that Queen Elizabeth I banned anyone other than close royal family members from wearing it.
It could therefore be seen as a confident message from the Duchess, paying homage to her position within the royal family. Anyway, she looks great!
Lizzie Thomson is a regular contributor to woman&home, and also contributes to Metro.co.uk, Ideal Home, Culture Trip, and Evening Standard, covering all things lifestyle.