The Duchess of Sussex's gold bracelet has a very meaningful message behind it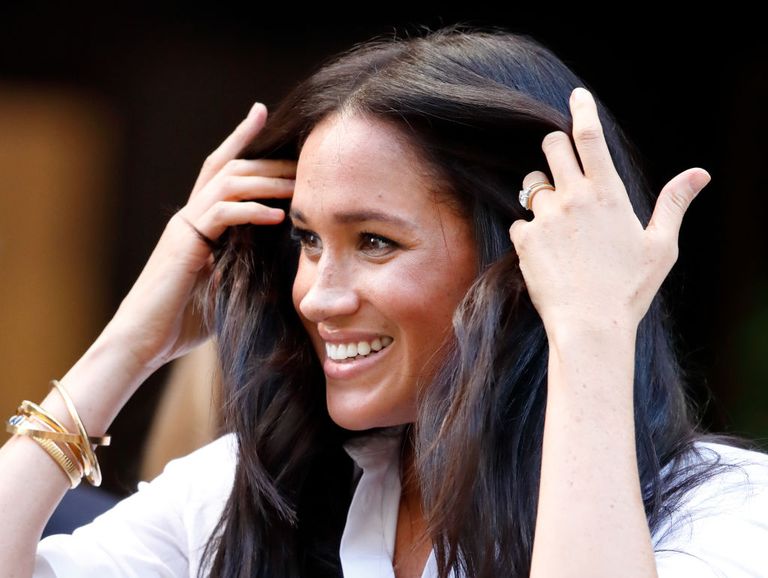 (Image credit: Getty Images)
Recently, the Duchess of Sussex launched her capsule fashion collection with Smart Works.
The Duchess of Sussex definitely made a statement during her recent engagement, with fans noticing the golden accessories she had chosen to pair with the stylish workwear for the occasion.
The Duchess of Sussex wore a selection of gold bangles on the day, with one belonging to Princess Diana.
She had also paid another beautiful tribute to her late mother-in-law on the day, spotted by eagle-eyed royal fans.
But one of the other bangles had a very moving story behind it, and drew attention to an important issue alongside the Duchess raising awareness of SmartWorks.
Turquoise Mountain Oshna Bangle, £115
The Turquoise Mountain Oshna Bangle was handmade in Afghanistan by a craftsman called Javid, whose life has sadly been affected by the Taliban.
He learned how to be a goldsmith as a young man, but his family were exiled from his hometown of Kabul during the Taliban government.
However, he returned in 2001 and has since married and had two children. Javid now employs men and women in his own workshop, despite being a target due to employing women and foreigners. Javid strongly believes that women should be able to work in the country.
The bangle was designed by jewellery designer Pippa Small, to support the Turquoise Mountain Foundation, who trains and employs young people in meaningful and creative jobs. Each piece from her collection is handmade in Kabul.
Pippa has collaborated with the Turquoise Mountain Foundation for 10 years now, and has a section of the website dedicated to the charity work in Afghanistan. Alongside the bangle, she also sells earrings, necklaces and other bracelets.
The foundation itself was conceived by Prince Charles, Hamid Karzai and Rory Stewart and was established in 2006.