The lovely message royal fans received after wishing the Duchess of Cambridge a 'happy birthday'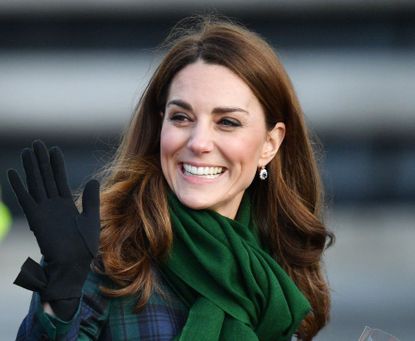 The Duchess of Cambridge celebrated her birthday last month and as you'd expect, she received plenty of love from her loyal supporters who sent their best wishes to the Duchess on her special day.
Catherine turned 37 this year and celebrates her birthday on the 9th of January.
As a thank you to those who had sent the Duchess sweet birthday messages, Kensington Palace sent out letters of thanks.
Royal fan Christin Zi received the following letter from Kensington Palace,
"It was so kind of you to write to The Duchess of Cambridge on the occasion of her 37th birthday. Your thoughtfulness was greatly appreciated by Her Royal Highness who sends her warmest thanks and best wishes."
The picture sent as a thank you for Catherine's birthday message shows the Duchess smiling, looking stunning in a red dress.
Christin was delighted with her reply and said, "Receiving a reply always brings sunshine into a bad day. To see the Kensington Palace initials is always exciting, and I am looking forward to seeing what I will receive in 2020."
Christin started writing to the Duke and Duchess of Cambridge after the birth of Prince George.
She said, "I just wanted to congratulate them on their first child, because it was such a special event for all fans around the world. In 2015 I sent one for Princess Charlotte. From this point I started to send Birthday congratulations to the Duchess of Cambridge and the children and also Christmas cards, so it became a lovely tradition."
The royal fan added, "I really appreciate the replies from the Duchess of Cornwall, because she always takes the time to include a handwritten personal note or her signature."
Royal fans agreed the picture of Catherine was gorgeous however some felt it would have been nicer to have received a more recent picture of the Duchess of Cambridge.
One royal fan said, 'There are so many nice more recent pictures of her.'
Kensington Palace posted another picture of Catherine on her birthday with the message, 'Thank you everyone for all your lovely messages on The Duchess of Cambridge's birthday!'
It is thought Catherine spent her birthday at home with her three children, Prince George, Princess Charlotte and Prince Louis. We are sure she had a lovely day! Unfortunately Prince William was away for most of the day due to an official engagement.
To find out more about Catherine's special day, read here (opens in new tab).
Rachel Howatson is a digital writer who works across a range of publications. Whatever your passion, whether it's hillwalking, cooking, gardening, running, socialising or even sleeping, she'll likely have written about it.