Duchess Meghan shares powerful message during tough times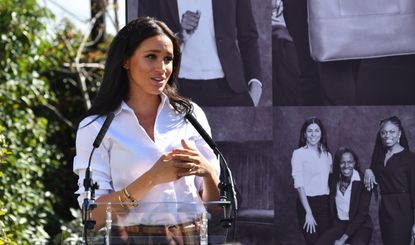 (Image credit: Mark Large)
Duchess Meghan has shared an inspiring quote about the reasons she votes.
What did duchess Meghan say in her message?
Meghan said: "I know what it's like to have a voice, and also what it's like to feel voiceless.
"I also know that so many men and women have put their lives on the line for us to be heard.
"And that opportunity, that fundamental right, is in our ability to exercise our right to vote and to make all of our voices heard.
"One of my favourite quotes, and one that my husband and I have referred to often, is from Kate Sheppard, a leader in the suffragist movement in New Zealand, who said, 'Do not think your single vote does not matter much.
"The rain that refreshes that parched ground is made up of single drops.' That is why I vote."
This isn't the first time the Duchess has spoken out about her passion for women's rights to vote.
During a royal tour of New Zealand with Prince Harry in October 2018, the Duchess delivered a speech about feminism at a celebration of the 125th anniversary of women's suffrage in the country.
She said: "Women's suffrage is not simply about the right to vote for women, but also about what that represents.
"The basic and fundamental human right of all people - including members of society who have been marginalised - whether for reasons of race, gender, ethnicity, or orientation - to be able to participate in the choices for their future and their community."
Robyn is a celebrity and entertainment journalist and editor with over eight years experience in the industry. As well as contributing regular to woman&home, she also often writes for Woman, Woman's Own, Woman's Weekly and The Sun.