Princess Diana's former bodyguard reveals she was scared she'd be killed like her friend Gianni Versace: 'Are they going to do that to me?'
In a new book and accompanying interview, Princess Diana's former bodyguard also makes public his true feelings about the 1997 car crash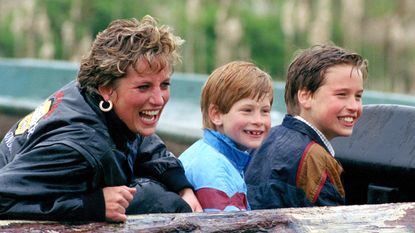 (Image credit: Julian Parker/UK Press via Getty Images)
In a new interview with Good Morning Britain pegged to the 25th anniversary of princess Diana's death, her former bodyguard Lee Sansum, an ex Royal Military Police officer, revealed that the royal was "in tears" after her friend Gianni Versace was murdered outside his mansion in Miami on July 15, 1997.
The former bodyguard told Good Morning Britain that princess Diana was scared she might also be gunned down following the tragic passing of her friend Gianni Versace.
Lee was assigned to protect Diana and her sons Willian and Harry in the summer of 1997, right before she died.
Lee has also written a book about his experience in protection services. Dubbed The Bodyguard, the tome will be published tomorrow, just one day after the 25th anniversary of Diana's death.
In his interview with Good Morning Britain, Lee explained that he was assigned to protect Diana and sons William and Harry while the three of them stayed at Al Fayad's giant villa in St. Tropez in the summer of 1997.
"It was when Versace [...] was murdered and at that time everybody thought it was some kind of assassination," Lee reminisced. "[Diana] was saying to me that she was upset. She was visibly upset, she had been crying a lot. I just bumped into her on the yacht and she asked me, really earnestly: 'Are they going to do that to me?' I was a bit shocked at the whole scene at that time. We were quite close [...] I just assured her that we were a very professional team and that we were going to look after her and her boys to the best of our ability."
As history has it, Diana unfortunately, passed away following a car crash with Dodi Al-Fayed and their driver Henri Paul on August 31, 1997, very shortly after the conversation she reportedly had with Lee.
In his new book, Lee also makes public his thoughts regarding the much talked about, infamous car crash.
"I believe security officers following Diana, possibly British or a combined British–French team, may have either inadvertently caused the crash or were in close proximity to the car when it happened," Lee said on Good Morning Britain.
Lee has proof of the pretty deep relationship that he developed with Diana and the kids during their time together. On the program, he revealed that he still treasures a letter that the princess gave him 25 years ago following the summer of 1997.
"Dear Lee: William, Harry and I very much wanted to write to thank you for taking such good care of us during our stay in St. Tropez," reads the note. "We realise that our presence, along with that of the media, made your job enormously difficult, and for that we apologise! However, we all had a magical ten days - which would not have been possible without your invaluable contribution and for that, we all send our warmest possible thanks."
The security expert specifically remembers the princess waking up around 7am while on vacation and spending the morning talking to Lee. During those conversations, Diana also reportedly told Lee that she was looking to move to the United States with Dodi, thinking it the only place where she could really feel safe.
Anna Rahmanan is a New York-based writer and editor who covers culture, entertainment, food, fashion and travel news. Anna's words have appeared on Time Out New York, the Huffington Post, Fortune, Forbes, Us Weekly, Bon Appetit and Brooklyn Magazine, among other outlets.