Buckingham Palace's statement on Harry and Meghan has been released with comments about 'concerning' issues
Buckingham Palace's statement on Harry and Meghan addresses the candid interview with broadcasting icon Oprah Winfrey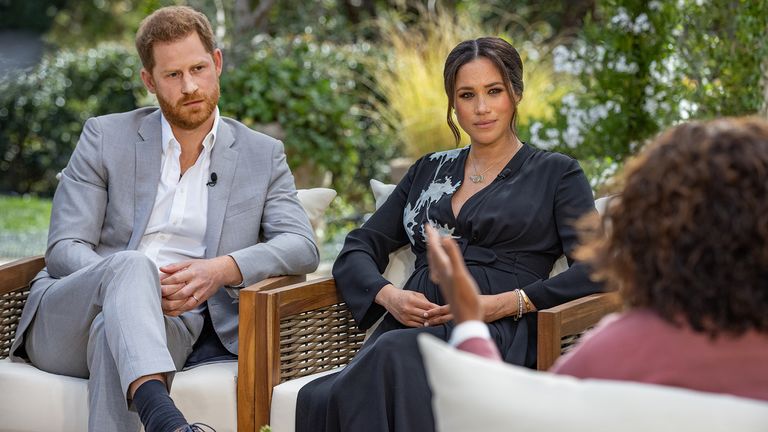 (Image credit: Getty)
Buckingham Palace's statement on Harry and Meghan has been released – with comments on the 'concerning' issues raised by Prince Harry and Meghan Markle in their candid interview with broadcasting icon Oprah Winfrey.
Prince Harry and Meghan Markle met with broadcasting legend Oprah Winfrey to speak out on the issues they faced within the Royal Family.
The Royal Family have been yet to comment on the candid interview until now, as Buckingham Palace have released an official statement.
Nearly 24 hours after Prince Harry and Meghan Markle's Oprah interview aired in the UK, the Royal Family have released a statement commenting on the couple's revelations.
In a statement released by Buckingham Palace this evening, they say, "The whole family is saddened to learn the full extent of how challenging the last few years have been for Harry and Meghan.
"The issues raised, particularly that of race, are concerning. Whilst some recollections may vary, they are taken very seriously and will be addressed by the family privately.
"Harry, Meghan and Archie will always be much loved family members."
The Queen's response has been eagerly awaited ever since the interview aired in the US on Sunday.
It comes after the Duke and Duchess addressed their time in the palace in an enlightening interview with broadcasting icon Oprah Winfrey.
The interview was full of shocking revelations, including one which left Oprah visibly stunned.
When addressing a past discussion that happened touching on what the couple's future children may look like, a shocked Oprah asked, "What? Who is having THAT conversation... with you? What? Hold up, hold up. There's a conversation with you..."
"With Harry," responded Meghan.
"About how dark your baby is going to be?" Oprah cleared up.
"Potentially. And what that would mean or look like," said Meghan.
Meghan revealed that the issue wasn't addressed with her, but with husband the Duke of Sussex and added that she wouldn't confirm who made the comment as it "would be very damaging to them."
"In those months, when I was pregnant, all around this same time, we had in tandem the conversation of he won't be given security, he won't be given a title...and also concerns and conversations about how dark his skin will be when he's born," added Meghan.
"That was relayed to me from Harry, that was from conversations that family had with him. It was really hard to see those as compartmentalized conversations."
"That conversation I am never going to share," commented Prince Harry, "but at the time it was awkward, I was in shock."
"I've spent many years doing the work and doing my own learning," Prince Harry went on, acknowledging the issue of race. "But then my upbringing and the system, in which I was brought up in, and what I've been exposed to, I wasn't aware of it to start with. But my God, it doesn't take very long to suddenly become aware of it."