Americans still hold a 'grudge' against Camilla claims US reporter
According to a senior ABC News journalist, Americans are still obsessed with the late Princess Diana and therefore have yet to come around to Queen Camilla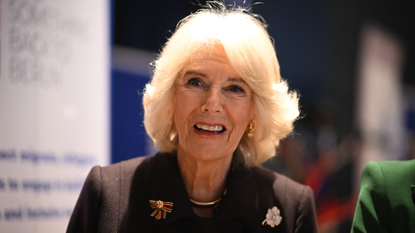 (Image credit: BRITTA PEDERSEN / Contributor)
As coronation day approaches, senior national affairs correspondent for ABC News Deborah Roberts went on the record about how Americans apparently feel about Queen Camilla - and it's not looking great for the royal figure, it seems.
The journalist believes that Americans still feel close to the late Princess Diana and see Camilla as taking her place.
The expert posits that, in the United States, people still 'hold a grudge" against Camilla.
Chatting with the Radio Times about the royal family, Deborah, who knows a thing or two about the subject after having covered Harry and Meghan's wedding, Queen Elizabeth's funeral, and the Platinum Jubilee, among other royal events, shared her belief that Americans' relationship with Queen Camilla was always tainted by what happened to King Charles' first wife, Princess Diana, who tragically passed away in a car accident in Paris in August of 1997.
The journalist notes how, on the other side of the Atlantic, people always adored the princess and even believed rumors that she was going to give up her royal life and move to the United States. The love for the British figure seems to still run deep, posit Deborah.
"Charles is a man who a lot of people associate with breaking Princess Diana's heart, and Camilla is going to be referred to as Queen, not Queen Consort, so there's that feeling that another woman is taking Diana's place next to the king on the throne," the correspondent said.
The expert went even further, suggesting that Americans actually "hold a grudge" against Queen Camilla.
"They feel [Diana] wasn't treated well and that will probably endure for a while," she explained. "Diana embodied that spirit of being carefree and promoting equality – she was as close to an American in the British royal family as somebody could imagine."
As a general statement, noted Deborah, Americans tend to pretend not to be interested in the ins and outs of royal life - but, in reality, they care about the British world a lot and are extremely fascinated by it… hence their strong feelings toward all that Queen Camilla represents.
Speaking of Camilla and the upcoming festivities to celebrate the new heads of the family: Queen Camilla will actually make history at the coronation, as she will be consecrated with holy oil without being hidden by a canopy, in contrast to the last Queen Consort's coronation, which was that of Elizabeth Lyons.
As Queen Consort, like the Queen Mother before her during King George VI's coronation, Camilla will receive her own special moment during the historic day.
During this, she will be anointed with the holy oil and be presented with a ring that "marries" her as consort to the King.
The ring, an octagonal mixed-cut ruby surrounded by 14 diamonds, bears the symbolism of a ring exchanged in marriage.
A spokesman for the office of the Archbishop of Canterbury has described it as signifying "covenant and agreement, an unbroken bond, without end. It 'marries' Consort to King, and them both to God in duty and to the people in loving service, and in turn acts as an assurance of God's unfailing love."
It'll clearly be a very special day for Camilla and the whole royal family - despite what Americans may think of them all.
Anna Rahmanan is a New York-based writer and editor who covers culture, entertainment, food, fashion and travel news. Anna's words have appeared on Time Out New York, the Huffington Post, Fortune, Forbes, Us Weekly, Bon Appetit and Brooklyn Magazine, among other outlets.