This affordable digital magazine subscription is the no-brainer gift the whole family will enjoy this Christmas
Give the gift of reading this Christmas!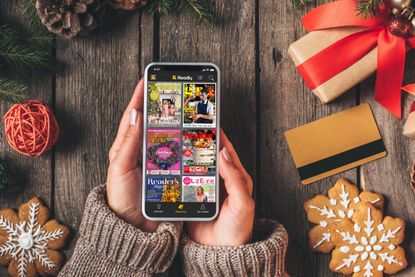 Promotional feature with Readly (opens in new tab)
December has arrived, which means it's time to start ticking off that seemingly never-ending Christmas shopping list. Cue frantic trips to the overwhelmingly busy shopping centre, second guessing whether the in-laws will actually like the gift you've got them, andquestions over what on earth to buy for the book club Secret Santa.
It's a well established fact that one of the trickiest things about Christmas is figuring out what to buy everyone. You want to pick unique and fun gifts - but it's important to also buy something you know that your loved ones will actually use and cherish. And increasingly we all worry about the environmental impact of our spending sprees.
But it doesn't all have to be quite so stressful. If you're looking for a gift that your friends and family can enjoy for months - or even years - to come, we recommend Readly.
What is Readly and why do we recommend it?
Readly is a digital subscription service for your favourite magazines, that gives you unlimited access to national and international magazines, in one handy app across multiple devices.
There are thousands of popular titles to choose from on Readly. But it's just as ideal for 'fussy' readers, or those with niche interests, because the more than 4,500 magazines included cover a massive range of topics. Know a health nut? Well, there are over 300 wellbeing magazines, including Women's Health and Liz Earle Wellbeing. What about a lifestyle or celebrity obsessive? There's plenty of that too - with magazines including Vogue and Woman and Home. There are thousands to choose from, including mags focused on food, recipes, travel, tech and current affairs - pretty much, anything you can think of.
We know what you're thinking - I can't enjoy the games and puzzles at the back of the magazine if I read on an app, can I? Well, never fear, because puzzles are available to play on the app too!
Part of the joy of the service is how low hassle it is. We love that the text of the magazines will adapt to your device, so it'll become easier to read on a small screen. Hurrah, no more squinting! In another plus, back issues of all your favourite publications are also available. So if you've been dreaming about that delicious roast potato recipe you found in a food magazine circa 2010, here's your chance to dig it back up again.
It's super easy to use wherever you are. We've all had that annoying moment during the commute when your signal drops, and you can't finish the article you were in the middle of reading. But Readly works offline, so you can use it on the train, on a plane - or just about anywhere.Readly can also be shared with the whole family too. It offers unlimited reading for up to five devices.
In today's modern world, we're all trying our best to do what we can for the environment. And for the eco-concious, Readly is of course entirely paperless - meaning you or the gift's recipient don't have to contribute to household waste.
So if you're ready to check someone off your Christmas list and buy this as the perfect present for your mum/dad/brother/friend/cousin (whoever!), Readly have got a special offer you're going to love. But do it now, because the discount won't last forever!
Readly is a subscription service, meaning you can gift your loved one a certain amount of months usage with gift cards. Gift them 3, 6 or 12 months - whichever you fancy. They're currently running a 10% discount for the three-month gift card, available for just £20.90, and 15% discount for the 6-month card - get it for £39.90. That's months and months of fun and inspiration for just over £6 a month.
Buy a discounted Readly gift card for your loved one HERE (opens in new tab)
Tempted yourself? We don't blame you. You can also try out Readly yourself for two weeks for free, and treat yourself to hours of relaxation and inspiration.
Try Readly for free for two weeks by clicking HERE (opens in new tab)
Now if you don't mind, we're going to sit by the fire with a cup of tea scrolling through our favourite issues. It sure beats an afternoon spent battling shoppers in town...
Amy Hunt is an experienced digital journalist specialising in homes, interiors and hobbies. She began her career working as the features assistant at woman&home magazine, before moving over to the digital side of the brand where she eventually became the Lifestyle Editor up until January 2022. Amy won the Digital Journalist of the Year award at the AOP Awards in 2019 for her work on womanandhome.com.