The truth behind the 'Pam Ayres naughty poem' 50 Shades of Grey (A Husband's Point of View)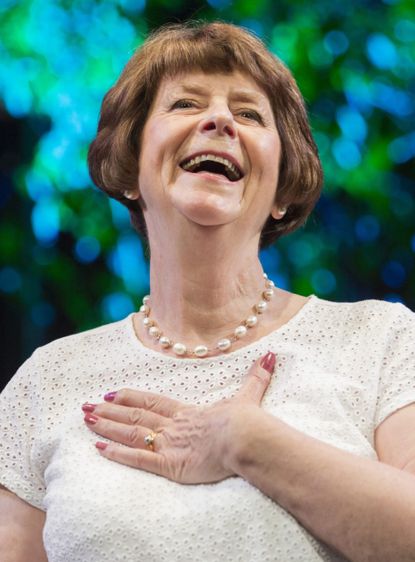 Poet Pam Ayres is a bit of a national treasure.
The 71-year-old poet, comedian, songwriter and presenter first found fame with an appearance onOpportunity Knocksin 1975.
Since then she has gone on to perform for Her Majesty The Queen and was made the top 10 of aBBC poll to find the nation's100 favourite comic poems, for her pieceOh, I Wish I'd Looked After Me Teeth.
But in recent years, it is50 Shades of Grey (A Husband's Point of View) -supposedly Ayres' naughty poem, which has been doing the rounds online for some time - that has most captured the public's imagination.
Not familiar with the work? Here it is in full...
The missus bought a Paperback
Down Shepton Mallet way.
I had a look inside her bag
'Twas Fifty Shades Of Grey
Well I just left her to it,
And at 10 I went to bed.
An hour later she appeared;
The sight filled me with dread...
In her left she held a rope;
And in her right a whip!
She threw them down upon the floor,
And then began to strip.
Well fifty years or so ago;
I might have had a peek;
But Mabel hasn't weathered well;
She's eighty four next week!!
Watching Mabel bump and grind;
Could not have been much grimmer.
And things then went from bad to worse;
She toppled off her Zimmer!
She struggled back upon her feet;
A couple minutes later;
She put her teeth back in and said
I am a dominater !!
Now if you knew our Mabel,
You'd see just why I spluttered,
I'd spent two months in traction
for the last complaint I'd uttered.
She stood there nude and naked
Bent forward just a bit
I went to hold her, sensual like
and stood on her left tit!
Mabel screamed, her teeth shot out;
My god what had I done!?
She moaned and groaned then shouted out:
"Step on the other one"!!
Well readers, I
can't tell no more;
About what occurred that day.
Suffice to say my jet black hair,
Turned fifty shades of grey
However, it turns out that the witty composition wasn't actually penned by the writer - as she took to Twitter to clarify in 2013.
Responding to someone who tweeted to say how much they had enjoyed the poem, Pam posted: 'I DID NOT write this poem. It is doing the rounds on the internet etc., but it is nothing to do with me.'
Various sources report that the author of the naughty poem is in fact a writer named John Summers.
No matter, readers of the poem love it all the same, with onewoman&homereader calling it 'absolutely brilliant'.
We're rather inclined to agree!
Sign up to our free daily email for the latest royal and entertainment news, interesting opinion, expert advice on styling and beauty trends, and no-nonsense guides to the health and wellness questions you want answered.