Yankee Candle deal: Save up to £11 on Amazon for today only
Some of our festive favourites are on offer.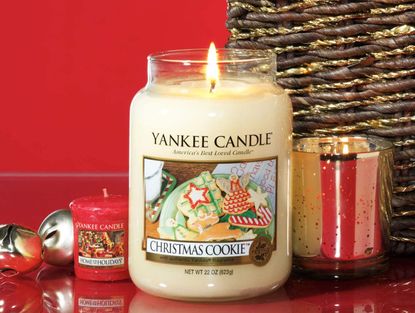 With temperatures cooling and the days shortening, there's nowhere we want to be more than on the sofa with a cosy candle lit and a good book in our lap. And when it comes to the best candles (opens in new tab) for getting us in the seasonal spirit, it's hard to beat a great Yankee Candle.
So you can imagine our delight when we heard that Amazon are offering huge discounts on their selection of Yankee candles in their deal of the day!
Shop the deal below...
DEAL IN FULL: Up to 46% off selected Yankee Candles on Amazon (opens in new tab)
On Amazon today you can getup to 46% off large jar Yankee Candles, (opens in new tab) in the deal of the day. That's amazing savings up to £11!This is a great deal on some of our favourite Yankee Candle scents. Amazon are offering the greatest savings on the warm Black Cherry large jar candle and the sweet Fresh Cut Roses candle in their Yankee Candle deal, with a huge saving of £11 each.
But the deals don't stop there, as Amazon are offering savings on a further five iconic Yankee Candles. Including everyone's festive favourite Christmas Cookie for 21% off – saving customers a fantastic £5.But be quick, because the amazing savings are for today only!
VIEW DEAL HERE (opens in new tab)
With a burn time of up to 150 hours, a gorgeous large jar Yankee Candle will see you through the Autumn and well into the winter. And with some of our favourite scents on offer in Amazon's Yankee Candle deal, we can hardly wait to get hibernating for the colder months ahead.
All Yankee Candles are made of premium wax to deliver a clean burn and lovely, warm aroma. And of course, they come encased in the brand's signature glass jar.
But remember, this amazing Yankee Candle deal (opens in new tab) is for one day only.Will you be treating yourself to a new purchase for autumn?
Yankee candle deal: the candles on offer on Amazon for today only:
Yankee Candle Large Jar Scented Candle, Black Cherry – was £23.99, now £12.99 (save £11)
Yankee Candle Large Jar Scented Candle, Christmas Cookie – was £23.99, now £18.99 (save £5)
Yankee Candle Large Jar Scented Candle, Fresh Cut Roses – was £23.99, now £12.99 (save £11)
Yankee Candle Large Jar Scented Candle, Midnight Jasmine – was £23.99, now £16.99 (save £7)
Yankee Candle Large Jar Scented Candle, Tropical Jungle – was £23.99, now £15.99 (save £8)
Yankee Candle Large Jar Scented Candle, Sweet Nothings – was £19.66, now £14.99 (save £4.67)
Yankee Candle Large Jar Scented Candle, Evergreen Mist – was £20.65, now £14.99 (save £5.56)