Wordle Unlimited is a total game-changer if you can't get enough of guessing those five-letter words
Obsessed with Wordle? You need to try Wordle Unlimited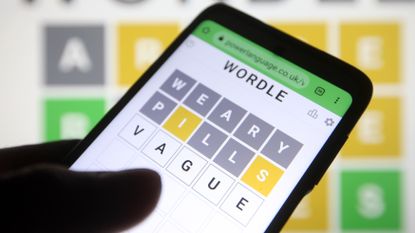 (Image credit: Photo Illustration by Pavlo Gonchar/SOPA Images/LightRocket via Getty Images)
Wordle Unlimited is a must-try for any Wordle addict obsessed with guessing that daily five-letter word.
Are you always on the hunt for Wordle tips, keen to improve your Wordle skills to solve those daily wordy mysteries quicker or desperate for Wordle alternatives to satisfy your addiction to the viral game? You need Wordle Unlimited in your life.
The special Wordle spin-off allows you to have unlimited games in a day and won't ruin your official Wordle streak if you fail to guess one correctly.
What is Wordle Unlimited?
The concept of Wordle Unlimited is the same as the original, which was created by Welsh software engineer Josh Wordle and later sold to the New York Times.
You get six guesses to guess the word at play, with letters going gray, green or yellow as you choose them, telling you if they're in the correct place, in the word somewhere or not in the word at all.
You can also tailor the amount of letters in the word, with four-letter words up to 11-letter words being up for guessing.
You can also select the difficulty of the word you play with, with "normal", "more weird" and "less weird" being the options.
You can even make up your own words and challenge your friends with personalized Wordle games.
Naturally, Wordle Unlimited has gone down a treat with members of the Wordle-obsessed community who have discovered it.
"Wordle Unlimited is a blessing," one die-hard fan wrote on Twitter.
When you discover there is a wordle unlimited you can play all day instead of just once a day. Makes me happy 😊😊😊🥰🥳 pic.twitter.com/M3n4LYCjp2March 6, 2022
See more
"When you discover there is a Wordle Unlimited you can play all day instead of just once a day. Makes me happy," penned another Wordle enthusiast.
One more took to social media to admit that Wordle Unlimited had allowed them to totally nail their Wordle ability, writing, "I think I cracked the Wordle thing. No computers, just basic learning through trial and error.
"Thanks to Wordle Unlimited. Tried hundreds of games. The methodology somewhat improves speed for sure. And most puzzles can be solved in the fourth attempt."