Why does Gabrielle cover one eye and what are the effects of ptosis?
Gabrielle was recently un-masked on The Masked Singer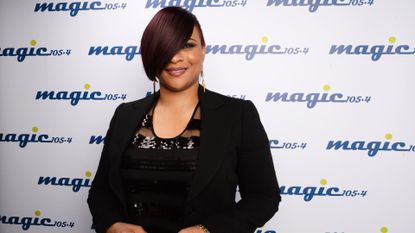 (Image credit: Getty)
Gabrielle stormed back onto our screens on The Masked Singer earlier this year, and she's all anyone has been talking about since.
The 50-year-old singer is best known for her debut single Dreams which topped the UK singles chart in 1993. And for going on to release hit after hit - including Out Of Reach and Every Step.
28 years later and the star is still singing, most recently appearing as Harlequin on the current series of The Masked Singer - where the audience tries to guess which celebrity is behind each mask.
So with Gabrielle out of the Masked Singer and sadly not making it to the grand final - in which this celebrity is expected to return - one question remains: Why does Gabrielle cover her eye?
More from woman&home
Why does Gabrielle cover one eye?
It hasn't gone unnoticed by fans that Hackney-born Gabrielle covers one of her eyes when she sings. And that's because of a medical condition called ptosis, which can cause the eyelid to partially close, droop or fall.
Back in the '90s Gabrielle sported an eye patch, but more recently she fashions a hairstyle that allows for the affected eye to be covered.
Despite rocking her signature-look with confidence now, Gabrielle hasn't always found it easy and suffered badly at the hands of bullies when she was at school.
The mum-of-two previously told British chat show, Lorraine, "Growing up it was all I ever knew, but people would take the mickey. So growing up you find ways to steel yourself. And then to be thrust into an industry, where no one looked like you - how was I going to do that? The eye patch was my savior."
What is ptosis?
Ptosis is a condition in which the upper eyelid droops over the eye. According to the American Academy of Ophthalmology (opens in new tab), the eyelid can droop just a little, or so much that it covers the pupil. For some, it can limit or block their vision completely. It is thought Gabrielle's eye has not been affected in this way.
Anyone can get ptosis, and it can affect both adults and children. Most commonly, adults get ptosis due to aging, when the levator muscle (the muscle that lifts the eyelid) stretches or separates away from the eyelid. As well as aging, Ptosis in adults can also be caused by an eye injury.
Those who are born with ptosis have what's called congenital ptosis. It's also caused by problems with the levator muscle, and in some cases can be a sign of other eye-related problems in children.
Can ptosis be cured?
Adults with ptosis can have surgery to correct their condition. This involves a surgeon making a small adjustment to the muscle that lifts the lid. In more severe cases, the levitator muscle may need to be strengthened and re-attached to the eyelid.
As with any surgery, there are risks and you should discuss them with your ophthalmologist or doctor prior to treatment.
According to the AOO, there are also prescription eye drops that may work for some adults with ptosis. The drops target the levitator muscle and aim to help open the eyes wider. However, the medication in the eye drops will not work for those who have ptosis as a result of eye injury. It's important to speak with your ophthalmologist or doctor for a full assessment and advice before trying any new treatments.
For children who are born with congenital ptosis, there are a number of factors doctors will consider before recommending a treatment, which is why it's so important that children have an eye examination with an ophthalmologist. Treatments for children include surgery, eye drops, wearing prescription glasses, and eye patches.
Georgia writes across Woman & Home and Good to Know and specialises in all things royal. Previously labelled the "Queen of the royals," Georgia knows the whose who and what's what when it comes to the monarchy. When she's not eagerly following the royal family, Georgia enjoys shopping and self-care. She lives with this motto in mind; "if your dreams don't scare you, they aren't big enough."