Who plays Ram on Workin' Moms and where did Frankie go?
As Netflix dropped the final season, fans are wondering who plays Ram on Workin' Moms?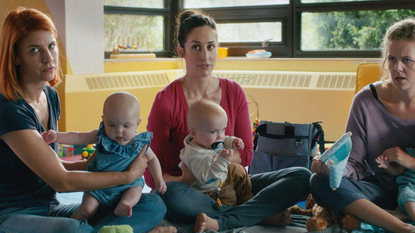 (Image credit: Netflix)
The seventh and final season of Workin' Moms, the Canadian TV series that premiered on CBC Television back in 2017 before finding a global home on Netflix in 2019, has officially come to an end.
Set in Toronto, the program focuses on the lives of five different thirty-something moms who strike up a friendship in a pretty eclectic local Mommy and Me class.
Specifically, fans of the dramedy got to know the women "on their difficult path [through] urban motherhood, which is packed with the turmoil of kids, highs and lows, careers, marriage and identity issues, all while attempting to reach the holy grail: a sense of self," according to an official synopsis.
All seven seasons are currently available to stream on Netflix, including the very final episode of the series, aptly dubbed "The End."
As fans new and old catch up on the show on the streaming platform (or, perhaps, spend some time re-watching the most hilarious portions of the program), some questions seem to reign supreme, including who plays Ram on Workin' Moms and where did Frankie go?
WHO STARS IN WORKIN' MOMS?
The main cast of Workin' Moms consists of Catherine Reitman, who is actually also the show's creator, executive producer, and writer, as Kate Foster, Dani Kind as Anne Carlson, Jessalyn Wanlim as Jenny Matthews, Sarah McVie as Val Szalinsky and Ennuka Okuma as Sloane Mitchell.
The roster of actors is rounded out by Philip Sternberg, Ryan Belleville, Alex Mallari Jr., and a few other stars.
WHO PLAYS RAM ON WORKIN' MOMS?
In the seventh and final season of Workin' Moms, fans got to know a new character, Ram, a role taken on by Canadian actor and comedian Raymond Ablack.
Netflix subscribers likely recognized the 33-year-old star immediately as he's also known for playing parts in other productions by the streaming giant, including Narcos, Maid, and Ginny & Georgia (yes, that's Joe!)
WHERE DID FRANKIE GO ON WORKIN' MOMS?
As fans catch up on all six seasons of Workin' Moms on Netflix, they'll notice some characters coming and going, including that of Frankie Coyne, played by Juno Rinaldi.
In fact, after appearing in 52 episodes of the show from seasons 1 through 5, Frankie is suddenly nowhere to be seen, leading viewers to wonder where she went. Her disappearance is actually explained during the season 5 finale when audience members are told that the character had decided to move away from Toronto to another city to start a new job.
In reality, Juno decided to step away from the show "to pursue other creative opportunities," as she explained in an Instagram post at the time.
"To my dear cast, crew, friends, families, and fans of the show. I have made the hard decision not to return to Workin' Moms," she wrote then. "As an artist, I felt like it was time to pursue other creative opportunities as an actor and different opportunities in other mediums within the business (specifically, writing and producing). Frankie was a role of a lifetime. Deep gratitude goes out to @reitcatou for taking a chance on a nobody like me. I had 5 glorious seasons with truly incredible people and now I am so excited to see where Workin' Moms goes next, I know it's going to be fantastic! All my love. Juno."
Anna Rahmanan is a New York-based writer and editor who covers culture, entertainment, food, fashion and travel news. Anna's words have appeared on Time Out New York, the Huffington Post, Fortune, Forbes, Us Weekly, Bon Appetit and Brooklyn Magazine, among other outlets.