Who is Anna Nicole Smith's daughter? Everything we know about Dannielynn Birkhead
People are wanting to know more about Dannielynn after the release of the new Anna Nicole Smith documentary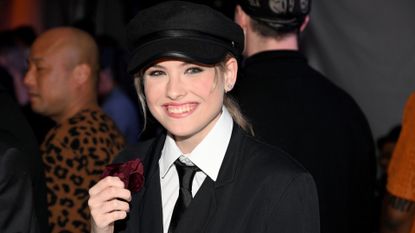 (Image credit: Getty Images)
Ever wondered about Anna Nicole Smith's daughter, Dannielynn Birkhead? Here's what we know so far...
Anna Nicole Smith's sudden death caused mass hysteria among fans back in 2007, but many members of the public are still curious about the intimate details of her life, and Netflix's new documentary, Anna Nicole Smith: You Don't Know My Story attempts to shed some light.
We know more now about Anna's relationships, including her first marriage to Billy Smith, her teenage sweetheart, and the father of Anna's late son, Daniel - but what about her daughter, Dannielynn Birkhead?
While Anna Nicole Smith was a huge model, actress, and TV personality, she was also a devoted mom - although she was only alive for five months after her now 16-year-old daughter, Dannielynn, was born in 2007.
Although Dannielynn wasn't featured in the Netflix doc all that much (she still is a minor, after all), folks are wondering about some of the details of her life, and whether she keeps up with her mom's side of the family, despite having not really known Anna herself.
Initially, Anna claimed on her website that lawyer Howard K. Stern was Dannielynn's father - however, just months before Anna died, a text to entertainment photographer Larry Birkhead was sent from Anna, explaining to him that he's the father, according to DailyMail.
Even after Anna died, there was still some debate about who Dannielynn's father was - and since Howard was Anna's partner at her time of death, and Dannielynn was born just months before her death, he assumed he was the father as well.
Larry had an opposing opinion, however, and did a court-mandated paternity test, and once the results of Larry's fatherhood came in, Howard gave him full custody of Dannielynn.
Dannielynn had a brother, Daniel - but he, unfortunately, died just three days after Dannielynn's birth, at just 20 years old, from a drug overdose.
Since Dannielynn is only 16 years old, she has no marital status or career to note - but the most charming part of Dannielynn's life, however, is her relationship with her dad, Larry.
Every year, the father-daughter duo attend the Kentucky Derby together in honor of Anna, since Anna and Larry first met at the Barnstable Brown Gala (which is the party before the Kentucky Derby).
Larry has said that one of the biggest ways Dannielynn keeps her mom's memory alive is by wearing her old clothes. He told People this month that, although there are still some pieces of Anna's wardrobe that she'll have to mature into, she still loves to wear other items from her closet.
"There are some T-shirts and different things she fits in, but there are also some things that she'll say, 'Dad, no thanks, that's not my style," he said.
Madeline Merinuk is woman&home's US lifestyle news writer. She covers celebrity, entertainment, fashion, and beauty news but is also obsessed with internet trends - you can find her reciting trending TikTok sounds out loud at any given time.
After winning multiple student journalism awards for her investigative work, she graduated from Hofstra University in 2021 with a B.A. in Journalism. After graduating, she worked at today.com, the digital site for the Today Show, where she wrote pop culture news and interviewed big-name personalities like Emily Ratajkowski, Haley Lu Richardson, Emma Corrin, and more.
Her personal interests, in no particular order, are: cheese, Joni Mitchell, reading, hot yoga, traveling, having multiple chapsticks in every handbag at all times, and dancing to ABBA songs as if she were in the Mamma Mia movies.