What's the meaning behind Julianne Moore's orange shirt ?
The actress is spreading awareness of a cause she cares about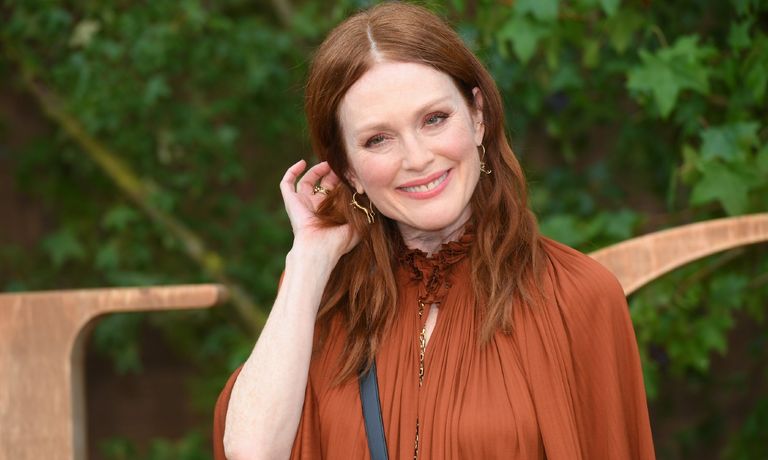 (Image credit: Corbis/Corbis via Getty Images)
Julianne Moore has been speaking up for victims of gun violence, using Instagram as her platform.
She posted a video to the social media site, in which she sports an orange shirt with the words "end gun violence" written on it. The slogan is simple, but why orange? In 2013, 15-year-old Hadiya Pendleton became a victim of gun violence in Chicago, just  a week after performing at President Barack Obama's second inauguration parade. After her death, Hadiya's friends and family wore orange in her memory. It has since become the defining color of the gun violence prevention movement.
This year, June 4 is National Gun Violence Awareness Day.  Julianne, who was joined by Hadiya's mother Cleopatra Cowley-Pendleton, posted her video as part of the day's events. 
---
More from woman&home:
• Best yoga mats for stretching, meditation, beginners and advanced workouts
• Best air purifiers—improve air quality in your home with our pick of the top models
• Best Kindle covers: Keep your eReader protected in style with these options
---
Cleopatra told the actress their chat was taking place on what would have been Hadiya's 24th birthday. The Wear Orange awareness campaign initially asked people to wear the colour on one day only, but has subsequently expanded to cover the whole weekend. 
 "She was born today, which you know was the original date [of Wear Orange], but now we want to use the weekend so that everyone can organize for Wear Orange," Cleopatra said.
Julianne has been involved with the movement for a while now, having met Hadiya's parents long before. She is also an active supporter for the charity Everytown for Gun Safety, a nonprofit that advocates for gun control. As a parent, the safety of her children and others has been a motivator to get involved.
"I just couldn't bear it anymore," she told Variety back in 2019. "I couldn't bear hearing about senseless gun violence and needless loss of life."
Why did they choose the color orange?
The choice of orange by Hadiya Pendleton's family and friends was symbolic. When out, hunters wear the color to make themselves visible, prevent being mistaken for animals or birds, and to show other shooters they are not a target. The Wear Orange moment wanted to show that no one should be a target. 
Julianne Moore wasn't alone. Lily Collins, Amy Schumer, Laura Dern, Clark Gregg and Grey's Anatomy star Jason Winston George joined the many thousands of people posting pictures of themselves using the Wear Orange hashtag.
Rylee is a digital news writer for woman&home and My Imperfect Life. She covers everything from beauty and fashion trends to celebrity and entertainment news.