This Morning viewers left in hysterics as Eamonn Holmes flirts with special guest in front of 'fuming' wife Ruth Langsford
This is why we love Eamonn and Ruth!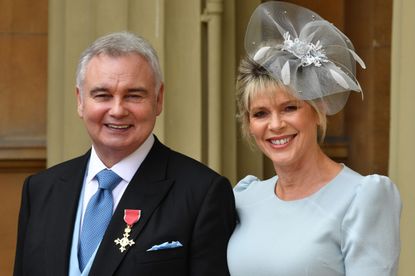 (Image credit: Getty)
This Morning viewers were left cracking up during today's episode of the ITV chat show when host Eamonn Holmes began flirting with an Adele look alike in front of Ruth Langsford.
The pop star impersonator appeared on the programme to chat to Eamonn and his wife Ruth Langsford about her upcoming gastric bypass surgery.
The wannabe Adele songstress was busy chatting about her decision to shed around seven stone following the real Adele's shock weight loss transformation that left the world gobsmacked earlier this year.
During the interview she couldn't help but compliment Eamonn on his own physique, praising him on looking "trim" and admitting to having a "soft spot" for the Northern Irish TV star.
READ MORE:Ruth Langsford shows off incredible lockdown hair transformation after 7am appointment at the salon (opens in new tab)
While it was obvious that Eamonn was enjoying the compliments, amused This Morning viewers couldn't help but point out that Ruth was looking a little envious.
'Omg Ruth she's not going to actually steal your man, the jealousy is literally pouring out of her facial expressions,' one member of the audience wrote on Twitter.
'Putting it on the big fella in front of Ruth #ThisMorning,' joked a second.
'Did Ruth's eyes goes devil red then. #ThisMorning,' asked another.
A fourth chipped in to suggest Ruth could be feeling more irritated than envious, penning, 'When you've been married as long as Eamonn and Ruth and a younger woman flirts with your husband the wife's reaction isn't jealousy, it's annoyance that your husband actually believes it and you'll never hear the end of it.'
This comes after Eamonn left his Loose Women star wife utterly mortified when he appeared to slap her on the bottom on live TV earlier this month.
As the former Sky News anchor rushed to get into position while on air, he scooted behind Ruth and seemingly gave her a slap on the bottom in front of the nation.
Naturally, Ruth was taken by surprised by Eamonn's televised antics, shrieking, "What are you doing!?"
"You were blocking me," Eamonn hilariously replied, defending himself.