Is This Is Us ending with Season 6? Everything we know so far
Everything we know about the This Is Us Season 6 release date, news, spoilers and more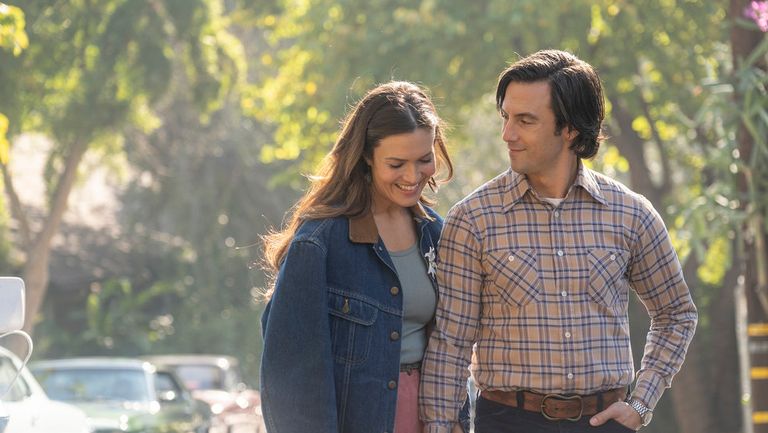 (Image credit: NBC )
If you're as hooked as we are, you're no doubt already wondering: when will This Is Us Season 6 premiere? And will it be the show's final season?
Although This Is Us Season 5 is currently on air, fans are already wondering about the next instalment of the Pearsons' story and how the show will end. 
Premiering in 2016, over the last few years we've laughed and cried as we follow the lives of Kate, Kevin and Randall and their parents, Jack and Rebecca. 
Here's everything we know about the next Season of This Is Us – if you're not all caught up on the show, you've been warned that spoilers up to the most recent episode of the show lie ahead. 
More from woman&home:
Will there be a sixth season of This Is Us?
Yes! In 2019, This Is Us was renewed for an additional three seasons, taking it to Season 6. Each season has 18 episodes, meaning we'll have 108 episodes of the show overall. 
This Is Us Season 6 release date – what we know so far
There's no confirmation yet on when Season 6 of This Is Us will premiere, but our guess is that it'll be towards the end of 2021 or early 2022. Season 5 premiered in October 2020, so around a year after that is a good estimate, provided that filming isn't delayed because of the pandemic.
Is This Is Us ending with Season 6?
Although fans aren't ready for the show to end, Season 6 is set to be its last. The show hasn't been cancelled, but creator Dan Fogelman has always said he doesn't want it to be one of those shows that runs and runs. "We never set out to make a television series that was going to last 18 seasons," he told The Hollywood Reporter in 2019. "We have a very direct plan."
Despite this, even This Is Us cast members are hopeful that the show will continue in some form. "Next season – season six – is supposed to be our last season. So everybody's a little distraught about it," Chrissy Metz, who plays Kate, told NBC New York at the start of the year.
"Who knows? There might be a spinoff. Who knows? Dan might say, 'Oh maybe let's go season 7'". We can only hope!
How will This Is Us end?
The biggest question around the This Is Us ending the fate of Rebecca, played by Mandy Moore (who has just welcomed her first child). Season 5 has seen her health deteriorate after an early Alzheimer's diagnosis, and the show's fourth season ended with a flashforward to the family gathering at Kevin's house, where she is seemingly on her deathbed. We can already tell the show's finale will have us weeping buckets.
The This Is Us's ending has reportedly been planned for some time now. "I would hope that when we reach our ending, people think it's a really satisfying end place, that makes sense, and it feels like they've watched something that is a complete piece of work because that's really how we're trying to plan it," showrunner Isaac Aptaker told Deadline in 2019.
"We've had this end in mind for a long time, so we're able to plan for it, and try to make it feel like it's a whole, as opposed to a series that's going to go endlessly." With all that in mind, keep reading for the biggest questions we're hoping to see answered in This Is Us Season 6.
Will Toby and Kate break up?
One of the biggest cliff hangers that's been hanging over Season 5 is the fate of our dear Toby and Kate. In the flashforward at the end of Season 4, Randall called Toby – who wasn't wearing his wedding ring – asking if he was coming to the house, presumably to say goodbye to Rebecca.
Toby mentions that his son, Jack, has said that "they" are on their way, but we don't know if this means he and Kate, or someone else (his sister Hailey perhaps?). Are the pair no longer together, or worse, has something happened to Kate? The lack of mentions of her in the future scenes are starting to feel very suspicious...
Chris Sullivan, who plays Toby, has previously said that the show's fifth season is going to explore the "longterm health" of the characters' relationship. "You know that Dan [Fogelman] and the writers are going to have surprises and twists and turns all along these paths," he told EW. "And there is no straight line from point A to point B. There's just not a lot that we either know at this point or can share." I for one am not on board with a Toby and Kate breakup, so fingers crossed this is a red herring.
Will Kevin and Madison stay together?
Kevin and Madison are currently engaged, having just welcomed their twins Nick and Frances. Their relationship may have been a little unconventional, having got engaged after Madison found out she was pregnant, but there's no reason to suspect their relationship couldn't work out (apart from this being the show with ALL the twists and turns).
Although Madison hasn't been mentioned in any of the flashforward scenes, this is most likely because the family is gathering at her and Kevin's home. Hopefully. You just never know with this show.
How did Rebecca and Miguel get together? 
Although we've known that Rebecca married Miguel, Jack's best friend, since Season 1, the show has never really explored their relationship or shown the story of how they got together. Mandy Moore, who plays Rebecca, has previously said this should play out in Season 5 (if not Season 6). "I've been told yes, but I also was told last year, so who knows?" she told EW ahead of Season 5. "I'm guessing it has to be this season, because season six [has] 18 episodes to wrap up this whole story.
"Hopefully that will be simultaneously shown with what their life looks like now, and how Miguel was a shoulder for her to lean on in the weeks and months and years after Jack passed away," she added. "Obviously [Miguel] is her caregiver now that she's suffering from dementia. That would be an interesting parallel to see that he's been this rock in her life the whole time."
Fans will remember seeing Rebecca reach out to Miguel on Facebook – so why did they stop talking after Jack's death? All questions we hope to see answered by the end of Season 6. 
And lastly, why was Nicky at Rebecca's bedside in the flashforward?
Following on from the above, eagle-eyed fans noticed in the flashforward that it was Jack's brother Nicky, rather than Miguel, who was seen at Rebecca's bedside in the future scenes at Kevin's house.
Does this mean that Miguel died at some point before the flashforward? We'd love to wholeheartedly believe that he's simply stepped out of the room for a moment, but this show does have a way with putting us through the emotional wringer...
Whatever it has in store for viewers, we're very excited to see how This Is Us ends in Season 6 – although we'll be sad to say goodbye to the Pearsons!