When is This Is Us back? Here's when Season 5 Episode 10 will air
Following the most recent episode of This Is Us Season 5, fans have been left wondering when the show will be back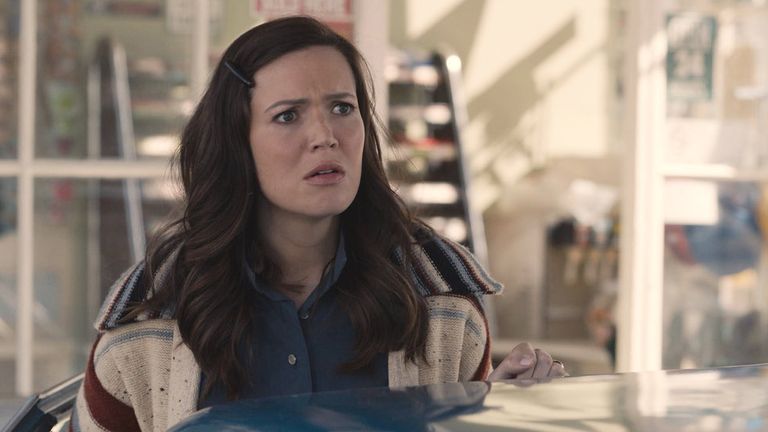 (Image credit: NBC )
After some delays due to the Covid-19 pandemic, This Is Us Season 5 is finally back on our TV screens. Naturally, fans are all asking, is there a new episode of This Is Us tonight? 
If you're not yet hooked, be prepared for an emotional rollercoaster of a show that'll have you welling up every other episode. The Emmy Award-winner follows the lives of siblings Randall, Kate, and Kevin Pearson (played by Sterling K. Brown, Chrissy Metz, and Justin Hartley), both in flashbacks to their childhood and the present day.
It also stories the lives of their parents, Jack and Rebecca Pearson, played by Milo Ventimiglia and Mandy Moore – who has just welcomed her first child – and ultimately shows viewers how even the smallest events in our life can have a long-term impact. 
** Warning: spoilers for Season 5, including Episode 10, lie ahead! **
More from woman&home:
What happened in This Is Us Season 5 Episode 9?
Episode 9, The Ride, involves a *lot* of driving scenes involving the many family babies that have been brought home over the years. 
Meanwhile, Kevin and Madison are dealing with his star status, with paparazzi following them as they bring the twins home. Naturally, Kevin has fatherhood on the brain and is visited by Jack in a dream, who tells him to "close your eyes, decide what you want, and then you go and get it, son.". This prompts him to discuss finally turning their engagement into marriage – much to her delight.
In other present-day baby news, Toby meets his daughter, Hailey, for the first time. In true Toby style, he waited outside the hospital with a giant banner reading, "Hi Hailey, I'm your dad." However, much to Kate's dismay, Ellie drops a bombshell: she doesn't think she can be part of the adoption anymore and thinks it would be best that she doesn't have any contact with her biological daughter going forwards. 
We also see flashbacks to Beth and Randall bringing Annie home from the hospital for the first time – when Randall decides it's a good time to bring up having a third child so they can try for a boy – and some flashforwards to both Annie and Deja in the future.
When will This Is Us Season 5 Episode 10 air?
NBC's website states that This Is Us Season 5 Episode 10 will air on March 9 at 9 pm/8c, presumably landing on Prime Video for UK viewers two days later. The whole of the show's fifth season has been pretty scattered due to filming delays arising from the Covid-19 pandemic.
How many episodes are in Season 5 of This Is US? 
Season 5 of This Is Us is set to have 18 episodes, eight of which are available so far. All of the four completed seasons are 18 episodes long, so it makes sense that the fifth season has the same number of episodes.
Is Season 5 the final season of This Is Us?
Not quite! As things stand, Season 5 is the penultimate season of the show. The show's creator Dan Fogelman has planned for the Pearson family's story to wrap up with This Is Us Season 6 – and apparently, the show's finale is already written.
"I would hope that when we reach our ending, people think it's a really satisfying end place that makes sense, and it feels like they've watched something that is a complete piece of work because that's really how we're trying to plan it," executive producer Isaac Aptaker told Deadline in 2019. "We've had this end in mind for a long time, so we're able to plan for it and try to make it feel like it's a whole, as opposed to a series that's going to go endlessly."
Is This Is Us on Netflix?
This Is Us isn't on Netflix, but all of the episodes so far are available to stream on Hulu and NBC online. New episodes usually air Tuesdays at 9/8c on NBC. In the UK, you can watch Seasons 1-5 on Amazon Prime Video.
How did This Is Us Season 4 end?
The finale of This Is Us Season 4, Strangers: Part Two left viewers on a huge cliffhanger after an explosive argument between Kevin and Randall. Both brothers had some extremely harsh words for the other; Randall told his brother that their father died, thinking that Kevin was a screw-up, while Kevin said he wished his parents had never adopted Randall as it was the root of all his problems. Yikes.
Meanwhile, in a flash-forward that sees the family gather around what appears to be her deathbed, fans were left questioning Rebecca's storyline for the remaining two seasons. We've been treated to some classic This Is Us future scenes drip-feeding us information since then, but the story is still wide open for now.
We can't wait to see how the rest of Season 5 pans out!