This foot hammock travel hack will help you sleep better on long-haul flights - and you only need a scarf
Yes, seriously!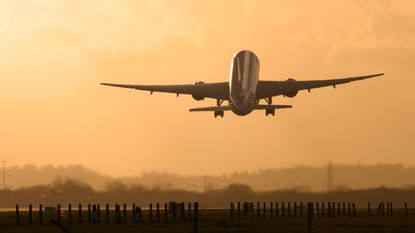 (Image credit: Getty Images)
This new TikTok travel hack will help you sleep easier on long-haul flights - and all you need is a scarf. No, we're not joking.
You know the familiar feeling: you're sitting in your seat on a long flight, desperately trying to fall asleep, but to no avail. You listen to one of the best sleep apps that perhaps has some calming meditations on it, following all of the hacks you've learned about how to fall asleep fast. You're in a state of utter anguish that you can't fall asleep - your best travel pillow won't work, and neither will those melatonin gummies you brought on the plane.
OK, maybe we're just speaking for ourselves. Regardless, we recently spotted a travel hack on TikTok that is supposed to alleviate this issue when flying, and apparently, all it takes is a scarf to get the best sleep of your life on a plane.
TikTok user @wandering__around posted this flight hack, and we haven't been able to stop thinking about it since we saw it.
In the video, the user shows herself tying a scarf around both sides of the seat in front of her, ensuring to tie knots around both ends of the tray table so that the scarf creates a small hammock for her feet.
"Pop your feet up and relax," the TikTok says, as the woman props her feet up into the hammock and leans against the window.
"This was super comfortable for sleeping, and I haven't been asked to remove it for takeoff or landing on any flight," she continues.
This hack seems genius, no? By creating this small hammock from just a scarf, you can have a comfortable place to put your feet, rather than trying to find an awkward position to place your legs and feet when trying to sleep on those long flights.
Some people have tried this hack and have found it to be helpful, according to the comments on TikTok.
"The first time I used the foot hammock, I asked the person in front of me if she could feel it. She said no," one person commented on the video.
"Brilliant!! Wish I would have known this last week. Thanks for the tip!" another commented.
Others, however, have some qualms about this flight innovation - and everyone knows there are a few etiquette tips for things you should never do on a plane.
"The person behind me on my last long flight had one of these. Unfortunately, it was awful, every time she moved it jostled my seat and woke me up," one person commented on the same TikTok.
Most of the people commenting shared that their biggest issue with the hack was the fact that they didn't want to see people's bare feet while on a flight, as the woman in the video had no socks or shoes on in her video.
"No bare feet on a plane. Never!!!" one woman commented.
"Keep your shoes on lady!!" another said.
So, needless to say, if you're going to try this hack, A.) keep at least your socks on, and B.) ask the person in front of you if your foot hammock is disturbing them at all - it's just common courtesy!
Madeline Merinuk is woman&home's US lifestyle news writer. She covers celebrity, entertainment, fashion, and beauty news but is also obsessed with internet trends - you can find her reciting trending TikTok sounds out loud at any given time.
After winning multiple student journalism awards for her investigative work, she graduated from Hofstra University in 2021 with a B.A. in Journalism. After graduating, she worked at today.com, the digital site for the Today Show, where she wrote pop culture news and interviewed big-name personalities like Emily Ratajkowski, Haley Lu Richardson, Emma Corrin, and more.
Her personal interests, in no particular order, are: cheese, Joni Mitchell, reading, hot yoga, traveling, having multiple chapsticks in every handbag at all times, and dancing to ABBA songs as if she were in the Mamma Mia movies.