The U.S. government has sold a valuable, one-of-a-kind Wu-Tang album
The album is the only known copy of the Wu-Tang's Once Upon A Time In Shaolin, previously owned by Martin Shkreli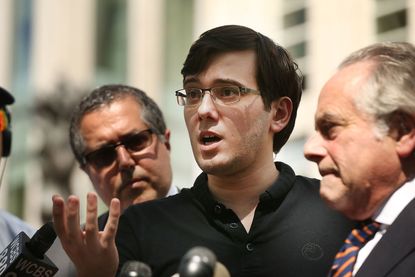 (Image credit: Getty)
The United States sold an extremely rare copy of Wu-Tang album Once Upon A Time In Shaolin to an anonymous buyer for a confidential price. It is the only known copy of the album, which previously belonged to Martin Shkreli, a former hedge fund manager caught in a fraud scheme. The work, while still private, is already generating buzz as if it were the next Taylor Swift album.
Shkreli was convicted of securities fraud and sentenced to seven years in prison in 2018 for raising the price of a life-saving HIV drug by 5,000% and defrauding investors in two failed hedge funds and a drug company. He became known as the "Pharma Bro." The album was handed over to the U.S. as part of his $7.4 million forfeiture judgement.
"Shkreli has been held accountable and paid the price for lying and stealing from investors to enrich himself," Jacquelyn M. Kasulis, acting United States attorney for the Eastern District of New York said today in an announcement. "With today's sale of this one-of-a-kind album, his payment of the forfeiture is now complete."
Shkreli had purchased the album in 2015 for $2 million as part of an auction. It has 31 tracks and featured special appearances from the Wu-Tang family. Wu-Tang member Robert Diggs, known as RZA, said when the group found out who purchased the album, they decided to donate "a significant amount of the portions to charity."
The album was created in 2014 for the sole purpose of an auction through online startup Paddle8. It came in a hand-carved silver box made by British-Moroccan artist Yahya and came with 174 pages of paper lyrics and background. Until the auction, it was stored in a vault in an actual royal hotel, Royal Mansour Marrakech hotel, one of the best places to see in Morocco. "We're about to put out a piece of art like nobody else has done in the history of music," RZA told Forbes. "We're making a single-sale collector's item. This is like someone having the scepter of an Egyptian king."
The Wu-Tang Clan put stipulations on the auction, most importantly that the album could not be sold commercially. Shkreli had to forfeit other prized possessions to pay his debt as well, including a Picasso painting.
Rebecca Holland is a travel and food writer based in Chicago. She has written for the Guardian, New York Times, Architectural Digest, Food & Wine, Wine Enthusiast and more. She is currently a graduate student at Northwestern's Medill School of Journalism. When not working, you can find her eating her way through Chicago's neighborhoods, or in non-pandemic times, traveling around the world.