Adam Kay shares a powerful photograph of 'amazing' Ben Whishaw in This Is Going To Hurt
The This is Going to Hurt TV series is set to be just as heartbreaking and hilarious as Adam Kay's bestselling memoir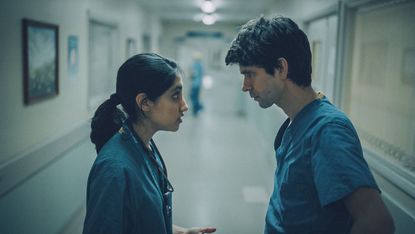 (Image credit: BBC)
A first look at the highly-anticipated This Is Going To Hurt TV series is here, and with Ben Whishaw stepping into Adam Kay's white coat, it's set to be every bit as moving as the bestselling medical memoir.
From Disney casting the star of its Snow White remake to the news of a Thelma and Louise stage musical, it's been an exciting week in the world of screen and stage adaptions. And it's only gone and gotten all the more exciting—because Adam Kay has treated us to a first look at the TV adaption of his beloved bestselling memoir, This is Going to Hurt.
Adam took to Instagram to tell fans that filming for the BBC series has just concluded; captioning a picture of Ben Whishaw in a bloodied shirt and tie, "Filming has just wrapped on THIS IS GOING TO HURT, coming to a BBC or AMC near you. Here's a picture of Ben Whishaw being amazing in it."
Based on Adam's internationally bestselling memoir of the same name, the seven-part This is Going to Hurt TV series will follow Adam, a junior doctor trying to stay afloat in a complex hospital hierarchy.
According to the synopsis, "The series is based on Adam Kay's award-winning international multi-million selling memoir of the same name, which has sold over 2.5 million copies to date and has been translated into 37 languages.
"The series, which is created, written and executive produced by Kay himself, rejoices in the laugh-out-loud highs while pulling no punches in its depiction of the gut-wrenching lows of life on a gynecology and obstetrics ward.
---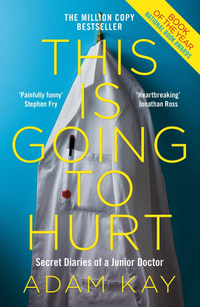 (opens in new tab)
This is Going to Hurt: Secret Diaries of a Junior Doctor by Adam Kay, $14.29 (£4.50) (opens in new tab) | Amazon
This is going to hurt is one of the bestselling books of the past decade thanks to its heartbreaking and hilarious account.
"Blisteringly funny, politically enraging and frequently heart-breaking, This is Going to Hurt remains a stark reminder of the vital role played by the NHS and is a clarion call to support our medics, a message that is more urgent than ever."
Who will star in the This is Going to Hurt TV series?
Ben Whishaw, star of a Very English Scandal and Paddington, will star in the series, supported by an all-star line-up that includes Alex Jennings, who played The Duke of Windsor in The Crown, and Michele Austin, best-known for playing Dani in Meet the Richardsons.
Ambika Mod (pictured) will star as Shruti, "a young junior doctor just starting in obstetrics and gynecology. Naturally bright, diligent, and caring, she has everything it takes to be a great doctor, but the job still finds ways to throw her into chaos and doubt".
Meanwhile Kadiff Kirwan (Chewing Gum, This Way Up) will take on the role of Adam's rival Julian, while Ashley McGuire (This Country, It's A Sin) will play forbidding consultant Miss Houghton.
Completing the cast is Emmy-nominated actor Harriet Walter (Killing Eve, Succession), who will play Adam's mother Veronique, and Rory Fleck Byrne (Harlots, Vita, and Virginia) who will star as boyfriend Harry.
When can I watch the This Is Going To Hurt TV series?
The series, which was created, written and executive produced by Adam Kay himself, will be broadcast on AMC in the US, and BBC One and BBC iPlayer in the UK.
Though we'll have to wait for an official air date, it's likely that the series will be broadcast in late 2021, or early 2022—giving us plenty of time to re-read the book.
Suffice to say, though, that fans of the bestselling memoir are already very excited for the series.
"I cannot wait for this. Such a good book, such a good actor!" commented one Instagram user on Kay's post, while another said, "Ahhh I am so excited for this!"
BBC Radio 4 Woman's Hour host Emma Barnett also offered her congratulations to Kay, commenting, "Huge mazel".
Kate is a freelance contributor to woman&home, covering everything she loves most: fashion, fiction, and fancy face cream. If she's not working, she's probably reading, feeding her online shopping addiction, or judging the taste level of celebrity houses (10/10 for Dakota Johnson, 2/10 for Tan France).

She graduated from Central Saint Martins in 2020 with a BA in fashion journalism, and her byline has also appeared in British Vogue, The Times, and Marie Claire.