The new Adele album we've been waiting six years for is set to drop at Christmas
Have you been holding out for a new Adele album since 2015? There's finally some good news!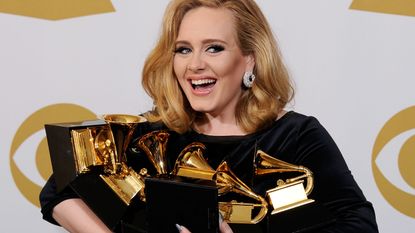 (Image credit: Photo by Kevork Djansezian/Getty Images)
Adele is predicted to bless the music world with a brand new album for the first time in six years, amid reports she will launch her latest project over the Christmas period.
The music icon, who recently shared her first ever Instagram photo of her new boyfriend Rich Paul, last added to her repertoire of albums in 2015.
Adele's '25' album was the third in her trio of musical collections named after the age she was during the writing process, with preceding albums '19' and '21' making her a household name around the globe.
Upon the release of '25', the record-breaking songstress, who hails from North London's Tottenham, graced the charts with her lead single 'Hello' and instantly nabbed the number one spot in the US and the UK.
With the likes of 'Hello', 'When We Were Young', 'Water Under the Bridge' and 'Send My Love (To Your New Lover)' having remained as firm favorites on millions of the world's playlists since her last release, the thrilling news that a new Adele album could actually be with us in just weeks has finally arrived.
---
When is Adele's new album coming out?
According to reports, Adele is preparing to release new material on December 10, with her first live performance in four years to follow.
It's been claimed material from the new Adele album will be on the setlist of a long-awaited Las Vegas live show, which will be streamed globally to mark the moment the 15-time Grammy winner, whose full name is Adele Laurie Blue Adkins, reclaims her place on stage.
"Adele's new album is the most highly-anticipated record of the year. It's been a long time coming but her label wants it released before Christmas and have their sights set on a performance in Vegas," a source told The Sunday Mirror (opens in new tab).
Allegedly, the only thing that could push Adele's huge comeback further away is complications caused by the COVID-19 pandemic.
"Adele and her management have been in talks with BBC America about broadcasting it around the world. This will be one of few performances as part of her promotional tour," the music insider went on to tell the publication.
"Obviously with ongoing Covid dramas and concern for safety it could affect recording, but this is the date scheduled right now."