The Marvelous Mrs Maisel season 5: When is the Amazon drama returning, what does the trailer hint about Midge's future and is this the last we'll see of her?
The Marvelous Mrs Maisel season 5 trailer sees Midge determined to make it big as the hit Amazon drama prepares for its triumphant return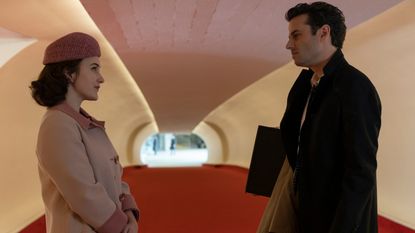 (Image credit: Philippe Antonello/Prime Video)
The Marvelous Mrs Maisel season 5 trailer has finally landed and as fans prepare themselves to see Midge Maisel's journey come to an emotional end it seems we're in for an emotional ride!
Set in the 1950s and 60s, The Marvelous Mrs Maisel has all the period drama details that might've got you wondering where to watch Call the Midwife combined with the comedic focus of Funny Woman. The hit Amazon show first landed in 2017 and stars Rachel Brosnahan as housewife Miriam 'Midge' Maisel who not only discovers her flair for stand up comedy, but sets out to secure herself a place in the comedic history books as a true star. Across seasons 1-4 we've seen her go through some epic highs and lows on her journey to make it big. Now The Marvelous Mrs Maisel season 5 trailer has landed and the new season is just a few weeks away and from what's been teased so far it looks set to be pretty special.
Here we reveal when The Marvelous Mrs Maisel will be released, what the trailer suggests about what lies in store after season 4 and who's returning to the cast…
*Warning: Spoilers ahead*
When is The Marvelous Mrs Maisel returning?
After what seems like an eternity to Midge fans (but in reality is a little over a year), The Marvelous Mrs Maisel is returning to Amazon Prime Video on Friday, April 14, 2023. Unlike the pattern of seasons 1,2, 3 and 4, The Marvelous Mrs Maisel season 5 will consist of 9 episodes and there's great news for those who can't wait nine full weeks to see it through to its no doubt emotional conclusion.
According to Variety, the first three installments will land on April 14 in one go before a weekly schedule is established. The season 5 finale is set to air on May 26 so whether you want to watch it immediately or hold out potentially to watch all episodes in one go this is a date you won't want to forget!
What we can learn from The Marvelous Mrs Maisel season 5 trailer
When we last saw Midge Maisel in The Marvelous Mrs Maisel finale she and Lenny Bruce (based on real-life legendary US comedian) had an emotional confrontation which re-focused her on her journey to superstardom. Going outside through a snowstorm she came across what she believed briefly to be a billboard saying "Go Forward" only to realize that it says The Gordon Ford Show.
Standing transfixed by the advertisement, this scene also appears at the start of The Marvelous Mrs Maisel season 5 trailer as he voiceover declares, "I want a big life. I want to break every single rule there is".
In it we see Midge signing autographs for fans and her manager Susie Myerson talking about her "busy professional office" as Mrs Maisel continues to do what she has to do to truly make it big and achieve her dreams. Though it seems it's continued to be a difficult road to take as we hear Midge confessing to Susie that she's "tired" of her career being "two steps forward, three steps back".
Susie, however, seems a lot more optimistic about her chances, telling Midge that people will soon be seeing her for what she is: "a goddamn star". As The Marvelous Mrs Maisel season 5 trailer draws to an end, Midge can be heard exclaiming, "I'm going to get this. You'll see".
In our case as fans that means we'll have to wait and see but we couldn't be more excited to watch Midge's final push towards stardom after all of her struggles. In the season 4 finale, we saw the tension between Midge and Lenny lead them to finally sleep together after quite the build up.
He's been a long-time supporter of Midge but confronted her after she turned down the opportunity to open for Tony Bennett as she hadn't wanted to be a support act again. He convinced her that it's worth being brave and not blow any chances of taking her career to the next level, saying it would break his heart.
During season 4 Midge had been working as an in-house comic at an illegal stripclub, which strained her relationship with Susie who found it hard to get bookers to come and watch her act at the club, whilst building up a bigger client base herself as a manager. Susie might have been unable to get through to her in The Marvelous Mrs Maisel season 4 but Lenny finally does.
Meanwhile, on a personal level season 4 also left things in an interesting place for Midge's married family, the Maisels, and her birth family the Weissmans. Midge's estranged husband Joel is expecting a baby with his girlfriend Mei Lin. His father Moishe Maisel survived a heart attack after finding out, whilst Midge's mother Rose is pressing full steam ahead with her match-making business, no matter how her rivals take it.
Is The Marvelous Mrs Maisel season 5 the final season?
Just like we await the premiere of Firefly Lane season 2 part 2 with a mixture of excitement and sadness knowing it's the drama's final outing, the triumphant return of The Marvelous Mrs Maisel will also be bittersweet as this will be the last we see of Midge. It was confirmed just before The Marvelous Mrs Maisel season 4 started last year that The Marvelous Mrs Maisel season 5 would be the show's last.
Speaking in a statement at the time, as per TV Line, Head of Amazon Studios Jennifer Salke praised the hit comedy-drama for blazing a phenomenal trail and for "challenging the norms" of the industry.
"Amy, Dan [Sherman-Palladino and Palladino, the show's executive producer], and The Marvelous Mrs. Maisel have blazed an unparalleled path, elevating the stories we tell about women, challenging the norms in our industry, and forever altering the entertainment landscape with their one-of-a-kind storytelling," Jennifer declared. "The dozens of awards cement Maisel's legacy in many ways, but what's even more enduring and poignant are the characters Amy created and the joyous, brilliant, singular world she and Dan brought to life."
She continued, ""This series has meant so much to Prime Video and the effects of its success will be felt long after its final season."
Meanwhile, according to the publication, Amy Sherman-Palladino expressed her belief back in 2020 in a Q&A that they hadn't ever wanted to "overstay [their] welcome" or elongate Midge's story to a point where it didn't have the same excitement to it.
"We don't want don't want to overstay our welcome," she said. "Midge has a journey she has to take. It's the struggle that is fun [as opposed to] 'I'm sitting in a penthouse and I'm really rich and I've got a lot of chihuahuas.' We know emotionally where we want to end her and at what point we want to cut it off, we just don't know how many episodes it's going to take to get there."
Now we know that very sadly it's 43 episodes that The Marvelous Mrs Maisel is going to take to get to the end of Midge's journey.
Who's returning to The Marvelous Mrs Maisel season 5 cast?
The Marvelous Mrs Maisel wouldn't be the same without - you guessed it, Mrs Maisel - and so unsurprisingly Rachael Bosnahan is back as the titular character. She's joined by Alex Borstein as Midge's loyal manager Susie Myerson and Michael Zegen as Midge's estranged husband Joel Maisel AKA the less-than-marvelous Mr Maisel.
Midge's parents Rose and Abe Weissman will be back in action in The Marvelous Mrs Maisel season 5 cast played once again by the brilliant Tony Schalhoub and Marin Hinkle.
Caroline Aaron will also be back as Joel's mother Shirley Maisel for the final installment. Long-time fans might also be excited to learn that Alfie Fuller as Susie's receptionist Dinah Rutledge, Jason Ralph as booker Mike Carr and Reid Scott as talk show host Gordon Ford are now series regulars. Luke Kirby will also be back as Lenny Bruce - a character based on the real-life US comedian of the same name - as a recurring character in season 5.
The Marvelous Mrs Maisel season 5 premieres on Friday April 14 on Amazon Prime Video.
Emma is a Senior Lifestyle Writer with six years of experience working in digital publishing. Her specialist areas including literature, the British Royal Family and knowing all there is to know about the latest TV shows on the BBC, ITV, Channel 4 and every streaming service out there. When she's not writing about the next unmissable show to add to your to-watch list or delving into royal protocol, you can find Emma cooking and watching yet more crime dramas.