The hilarious dating advice Sarah Jessica Parker indirectly gave Anya Taylor-Joy
The Queen's Gambit star Anya Taylor-Joy reveals that watching Carrie Bradshaw taught her to move on from love—and she even told Sarah Jessica Parker about it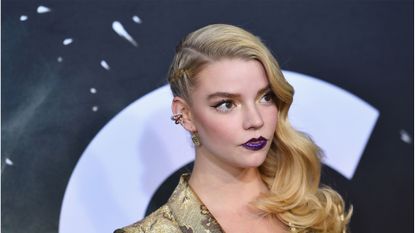 (Image credit: ANGELA WEISS /Getty Images)
Although most Sex and the City fans admit that the show has given them hope to find true love, The Queen's Gambit star Anya Taylor-Joy reveals in a new interview that watching the series has actually taught her to move on from unsuccessful relationships.
In a new British Vogue cover story, Anya recalls meeting Sarah Jessica Parker (who recently revealed that the Sex and the City reboot, And Just Like That..., will be coming back for season 2) and saying to her, "I need you to know that I'm watching you and Big and it's giving me hope."
According to Anya, Sarah Jessica then said, "[Hope] that things will work out?" At which point The Queen's Gambit actor responded, "No! That this will end and I will finally move on!" Sarah Jessica's hilarious retort, "Oh, shit. Sorry."
At the time, says Anya, she was going through a "horrible breakup" and, to make herself feel better when "down and out about love," she would re-watch old Sex and the City episodes.
Alas, the 25-year-old actor probably doesn't need to do that anymore as she is now dating 27-year-old musician and actor Malcolm McRae. Although the two are in a long-distance relationship—she's currently filming the much-anticipated David O. Russell movie Canterbury Glass alongside Margot Robbie and Christian Bale in the U.S. while he's in the U.K.—they are making things work out.
"Yes, [long distance] is hard," she says in the interview. "But it's also kind of great because when you're together you're really valuing the time that you have. Everyday mundane activities are so full of joy. I love going to the petrol station with him and filling up the car and going to get breakfast."
---
The Netflix star is also quick to note that she was never really into casual dating. "I was not a good dater and I'm quite glad to not be," she confessed. "I hear stories from my friends and I'm like, 'God, I would suck at that'."
In addition to Canterbury Glass, Anya is also currently working on The Northman, an epic historical film by Robert Eggers set in Iceland, and a yet untitled computer-animated production by Illumination and Nintendo about video game celebrity Mario.
Anna Rahmanan is a New York-based writer and editor who covers culture, entertainment, food, fashion and travel news. Anna's words have appeared on Time Out New York, the Huffington Post, Fortune, Forbes, Us Weekly, Bon Appetit and Brooklyn Magazine, among other outlets.