The Empress: Who was the real Franz Joseph I?
Married to Sissi, Emperor Franz Joseph I also led an eventful life - as portrayed in the new Netflix hit series The Empress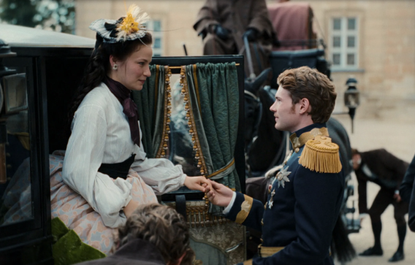 (Image credit: Netflix)
Fans of The Empress can't get enough of the characters that populate the hit Netflix series.
The Empress true story is, after all, a pretty exciting tale focusing on the marriage between Empress Elisabeth of Austria, mostly referred to as Sissi, and Emperor Franz Joseph I of Austria. The two were married on April 24, 1854 and, despite their romantic kinship, they clearly had their fair share of marital issues.
With The Empress ending and fans begging for a season 2, attention has turned to the real-life story behind each character's plot lines as a potential clue to whether there will be another few episodes of the show.
WHO WAS THE REAL FRANZ JOSEPH?
According to Britannica (opens in new tab), Franz Joseph I was born on August 18, 1830 as the oldest child of Archduke Francis Charles and Sophia, daughter of King Maximilian I of Bavaria. Franz's uncle was actually Emperor Ferdinand I but, since he had no kids, his nephew was considered heir to the throne.
When he was 18 years old on December 2, 1848, Franz became the Emperor of Austria. Just a few years later, at the age of 23, he took Elisabeth von Wittelsbach (Sissi) as his wife. She was 16-years-old at the time.
Fun fact: Franz was originally intended to marry Sissi's older sister Helene but, once he noticed his future bride at his own 23rd birthday party, he vowed to marry her instead. The nuptials took place in 1854.
Although the first season of The Empress focuses on Franz's reign as the Emperor of Austria, he was also crowned king of Hungary in 1867, according to Britannica. He retained both titles until his death from pneumonia at the age of 86 in 1916 at Schönbrunn Palace in Vienna.
DID FRANZ JOSEPH AND SISSI HAVE CHILDREN?
Franz Joseph I and Sissi had four children: Sophie, who passed in 1857 when she was only two years old; Gisela, who eventually married her second cousin Prince Leopold of Bavaria; Rudolf, married to Princess Stéphanie of Belgium; and Marie, who also married her second cousin, Archduke Franz Salvator of Austria-Tuscany.
The couple's only son and heir to the throne, Rudolf, died in 1889 in his early 30s. As a result, Franz Joseph's nephew Franz Ferdinand became heir to the throne - but the two did not get along.
While his uncle was still in power in June of 1914, Franz Ferdinand attended a series of military exercises in Bosnia-Herzegovina as Franz Joseph's inspector army general. According to History, a secret revolutionary society of peasant students called the Young Bosnians heard about the scheduled visit and plotted to assassinate the heir to the throne - which they did. Bosnian Serb student and political activist Gavrilo Princip shot and killed both Franz Ferdinand and his wife while they were in a car in Sarajevo. The episode sparked the beginning of World War I.
WHO SUCCEEDED FRANZ JOSEPH I?
Following the death of Franz Joseph I in 1961, his grandnephew, Archduke Karl Frank Joseph, took the throne.
Anna Rahmanan is a New York-based writer and editor who covers culture, entertainment, food, fashion and travel news. Anna's words have appeared on Time Out New York, the Huffington Post, Fortune, Forbes, Us Weekly, Bon Appetit and Brooklyn Magazine, among other outlets.