The Empress ending explained and could there be a season 2?
There is certainly enough material to create season 2 of The Empress on Netflix...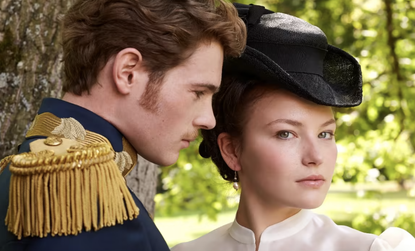 (Image credit: Netflix)
woman&home newsletter
Sign up to our free daily email for the latest royal and entertainment news, interesting opinion, expert advice on styling and beauty trends, and no-nonsense guides to the health and wellness questions you want answered.
Thank you for signing up to Woman & Home. You will receive a verification email shortly.
There was a problem. Please refresh the page and try again.
By now, you've probably eagerly caught up on all six one-hour episodes of The Empress on Netflix.
The Empress, based on the life of Empress Elisabeth of Austria, focuses on the life of the Austrian royal, mostly referred to as Sissi, who ruled the country from April 24, 1854, the day she married Emperor Franz Joseph I of Austria. She was assassinated in 1898.
Throughout the six episodes that are currently available for streaming on Netflix, fans became familiar with the royal's free spirit and unusual disposition towards her responsibilities as Empress.
At the end of the first season, Sissi seemingly decided to leave the palace - but what exactly did the last episode entail?
The Empress ending explained
There was a lot going on in the last hour of the first season of The Empress, starting with a potential war with the Russians. Specifically, Franz was seen weighing his options: although he did not want to go into war, and made sure that the public knew his stance, he did also believe that he had to protect his country's borders. As a result, he felt forced to eventually send his army into possible war - a move that convinced the bank to not pay the emperor loans for his dream project: railway construction.
Across another storyline, Sissi's mother-in-law, the archduchess Sophie, convinced her that, in order to win the trust of the people, the empress should visit the commoners.
Archduke Ludwig, Franz's little brother, and countess Esterhazy accompanied Sissi on her journey to the iron foundry to meet the workers, who clearly lived in pretty bad conditions. Sissi was so shocked by the situation she noticed that she asked to go into the foundry herself, despite countess Esterhazy's refusal to approve of the idea.
Once inside, Sissi noticed a little girl without shoes on and so offered her own pair to cover her feet. Although the empress asked to walk around the area barefoot, Countess Esterhazy called guards to carry her. At that point, an angry mob formed and all three characters were forced to seek repair and run away.
Sissi then started drinking heavily and disconnecting from her husband, at which point Sophie stepped in and told Sissi that she would either have to completely change her behavior or leave royal life forever.
The empress took some time to decide - during which she learned she was pregnant - and eventually chose to abide by the rules of royalty... until Franz himself began criticizing her. The realization that her husband might no longer love her convinced Sissi to abandon her title.
Just as she was about to leave, Sissi noticed that the gates to the palace were blocked by a large crowd that was demonstrating its displeasure with the emperor. Unperturbed, Sissi asked the guards to open the door, at which point she stepped outside, bowed to the crowd to show her respect, and announced that she was pregnant. Franz heard the news, rushed to his wife - and the episode ended.
Will there be a season 2 of The Empress?
Although there has been no official announcement made by Netflix or anyone else associated with the show about the potential for a second season, there sure is enough material to still explore in connection to the empress' life.
In fact, season 1 of The Empress just chronicled the beginning of Sissi's marriage and her initial choice to leave royal life and her pregnancy discovery.
The fact that the storyline is based on a real-life empress also gives an indication of where the plot might move towards. As history books chronicle, Sissi and her mother-in-law feud throughout their whole lives and the empress' party ways eventually caught up with her - as did her desire to be free from the burdens and obligations that her title bounder her to.
In addition to the commotion surrounding her family life, Sissi was known for her beauty, including her long auburn hair that historians claim was washed with a mixture of cognac and eggs, dyed with indigo, and then brushed for three hours each day.
So obsessed was the empress with her own looks and so panicked was she about aging that she supposedly refused to have her portrait taken after the age of 30. She also embarked on a very strict exercise regimen in order to maintain her 18-inch waist throughout her life. These are all possible plot lines that could eventually be tackled in a second or even third season.
Another interesting factoid: fans may have noticed that, at the end of season one, Sophie's youngest son, Ludwig, was seen wearing women's clothes. As history has it, Ludwig was actually known for his homosexuality and cross-dressing - another potential plot point to be explored in possible future episodes.
Sign up to our free daily email for the latest royal and entertainment news, interesting opinion, expert advice on styling and beauty trends, and no-nonsense guides to the health and wellness questions you want answered.
Anna Rahmanan is a New York-based writer and editor who covers culture, entertainment, food, fashion and travel news. Anna's words have appeared on Time Out New York, the Huffington Post, Fortune, Forbes, Us Weekly, Bon Appetit and Brooklyn Magazine, among other outlets.