The Diplomat ending explained and all we know about a season 2 after that intense final twist
The Diplomat ending delivered plenty of heart-stopping moments and not everyone would've seen that final twist coming...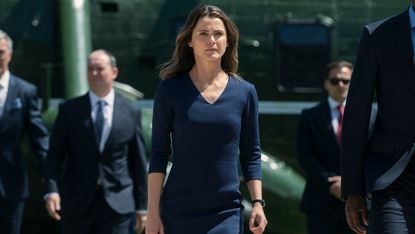 (Image credit: Cr. Alex Bailey/Netflix © 2023)
The Diplomat ending certainly didn't disappoint with its shocking reveals that likely got many fans anxiously wondering if there will be a season 2.
From the brilliant performances of the cast of Netflix's The Diplomat to the ever-increasing suspense across The Diplomat episodes, the hit political thriller has seen fans playing a dangerous guessing game. New US Ambassador to the UK Kate Wyler has a tough job on her hands to prevent tensions escalating too far after a British aircraft carrier is attacked. With the UK seeking justice, the perpetrator must be identified but secrets and agendas make the truth hard to determine as Kate navigates her new role. Building to a dramatic conclusion, in many ways The Diplomat ending provided just as many questions as answers.
Here we explain The Diplomat ending and reveal all we know about a possible The Diplomat season 2 after *that* cliff-hanger…
*Warning: Spoilers ahead*
The Diplomat ending explained
The Diplomat ending delivered a powerful twist truly worthy of this ever-evolving political thriller and which fans of A Spy Amongst Friends would surely approve of. From the very start of the Netflix hit one of the main mysteries which was set to be unraveled (and which on several occasions looked to have been solved) was who was behind the horrific bombing of HMS Courageous, a British aircraft carrier. At first everything pointed to Iran and British Prime Minister Nicol Trowbridge didn't shy away from expressing his desire to avenge those tragically lost in the attack.
After promising to "rain hellfire" on Tehran, though, they found out that Iran wasn't responsible and the blame shifted toward Russia. Eventually Russian mercenary Roman Lenkov was identified as the perpetrator but in a surprising move, Russia offered him up to the US and UK. This signaled that Russia as a nation didn't order Lenkov to carry out the bombing, leaving the US's new Ambassador to the UK Kate Wyler seriously suspicious.
Tensions escalated and Trowbridge declared that the mere arrest of Lenkov wouldn't be sufficient punishment for the death of those on the HMS Courageous. By The Diplomat ending, however, Kate is told by the UK's Foreign Secretary Austin Dennison that the PM has changed his mind. Arresting Lenkov will be enough and she is relieved that she's managed to calm relations between everyone involved.
The only stipulation was that British Special Forces are the ones to arrest him, but just when fans thought Kate deserved a pat on the back for an intense job well done things took an even darker turn. Showing up to a Gala in France in a magnificent red dress that signals how she's here to stay and won't be manipulated by anyone for their own ends anymore, Kate is horrified when the French Interiors Minister Fournier tells her that according to her sources, the British Special Forces are set to assassinate Lenkov and not arrest him.
Fournier said that French forces are being told to stand down and a shocked Kate leaves the venue, followed by a confused Austin. As The Diplomat ending reaches its closing stages Kate accused Austin of being complicit in the change of plans and suggested that he knew all along and used her.
He countered that PM Trowbridge couldn't have approved an assassination and had no reason to, as a dead Lenkov wouldn't be able to reveal who really hired him and the UK wanted to punish his employer.
Then it all clicked into place for Kate who was the one to reveal the big finale twist when she said, "A dead Lenkov is only good for the people who hired him. If Prime Minister Nicol Trowbridge wants Lenkov dead…"
"Nicol Trowbridge hired him," Austin continued, before checking his phone for an email asking for a meeting where Trowbridge would've asked him to sign-off on the plan under a specific clause.
Before he could find any email, Kate pulled his phone from him, put it in her clutch bag and threw it to an assistant. Meanwhile, the other side of the English Channel things were looking even worse. MP Merritt Grove had asked Kate's husband and fellow diplomat Hal to meet with him privately but Kate had instructed Stuart Heyford the Deputy Chief of Mission to attend instead.
Grove reacted badly and said he didn't want to speak to anyone from the US Ambassador's office and went to open his car, just as Hal called to him down the street on one side and Stuart on the other. Neither reached him quickly enough, though, and Grove's car exploded as soon as he opened the door.
The Diplomat ending's last moments contained no dialogue as The Great Gig in The Sky played over the top of scenes of French police coming over to Kate and Austin. They were presumably there to tell them about the bombing but no words were heard and with that The Diplomat ending concluded with the credits, leaving things on a major cliffhanger.
Will there be The Diplomat season 2?
As of now there's been no official confirmation of The Diplomat season 2, however as we've seen with the announcement of the upcoming The Tourist season 2 and The Watcher on Netflix, if the popularity is there even shows initially conceived as standalones can come back. Whilst The Diplomat ending certainly left the showrunners with plenty of plot threads that could be expanded upon in a follow-up series. Not least who out of Grove, Stuart, Hal and Stuart's colleague Ronnie might have survived the explosion.
As things were left we have no idea who was killed and who wasn't, though it seems very likely Grove won't be back if there is a The Diplomat season 2. He was opening his car door which triggered the explosion and was so close that him surviving would be miraculous. Ronnie was similarly close as she'd been attempting to persuade Grove to wait and speak to Stuart.
Stuart and Hal were both further away and given Hal is Kate's husband and there's so much potential for their fractured relationship to be explored further perhaps he has the best chance of surviving The Diplomat ending. Throughout season 1 Kate grew tired of Hal using her to further his own career and things weren't easy between them.
Hal's actor Rufus Sewell told Netflix that he thinks there's enough conflict and emotion between Kate and Hal to last multiple seasons - if Hal survives, that is.
"All I know is that if you resolve it one way or another too quickly, we're screwed. I like to think there are enough problems to last us [a few seasons]. Who knows? I would like someone with a better imagination than mine to take over on that rather than follow my dumb suggestion" he said.
Then there's the matter of what Grove knew and what he wanted to tell Hal before the explosion. It seemed like he was either aware that Trowbridge was behind the bombing or potentially suspected this because he knew that Trowbridge wanted to have Lenkov assassinated. If Grove was aware then it would be interesting to know how long he'd known for.
Trowbridge himself is also an interesting figure as whilst Kate and Austin now know what he's done, presumably they have no proof yet. Now he's also apparently attempted to cover his tracks with the car bombing too. It's not known exactly what his motivations were, other than perhaps securing more popular support for his tenure as MP.
He might've hoped stirring up anti-Russia sentiment with the bombing and swooping in to deliver justice would've kept the country together and increased his popularity. All this remains to be confirmed in a potential The Diplomat season 2 and after the dramatic events of The Diplomat ending we can't help hoping against hope that it will be renewed very soon.
The Diplomat is available to watch now on Netflix.
Emma is a Senior Lifestyle Writer with six years of experience working in digital publishing. Her specialist areas including literature, the British Royal Family and knowing all there is to know about the latest TV shows on the BBC, ITV, Channel 4 and every streaming service out there. When she's not writing about the next unmissable show to add to your to-watch list or delving into royal protocol, you can find Emma cooking and watching yet more crime dramas.