Is A Spy Among Friends based on a true story and what chilling events inspired the intense Damian Lewis drama?
It's easy to wonder if A Spy Among Friends is based on a true story after being immersed in the ITVX show's tale of espionage and betrayal...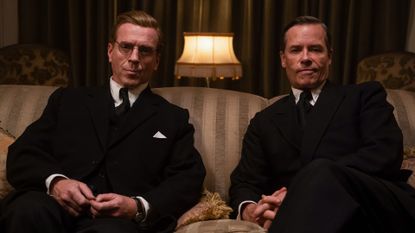 (Image credit: © ITVX/SONY PICTURES)
woman&home newsletter
Sign up to our free daily email for the latest royal and entertainment news, interesting opinion, expert advice on styling and beauty trends, and no-nonsense guides to the health and wellness questions you want answered.
Thank you for signing up to . You will receive a verification email shortly.
There was a problem. Please refresh the page and try again.
Is A Spy Among Friends based on a true story is the question many fans might be asking themselves as Damian Lewis and Guy Pearce take on the roles of British spies in the ITVX show.
If you've yet to discover how to watch A Spy Among Friends then you've been missing out on some seriously sinister events. Plunging viewers into the murky world of espionage, the new ITVX drama stars Homeland's Damian Lewis and Memento and Neighbours star Guy Pearce as MI6 officers Nicholas Elliott and Harold 'Kim' Philby. Once close friends, their bond is forever shattered when Philby is exposed as a Soviet double agent and a member of the Cambridge Five within the ranks of the British Intelligence services.
But is A Spy Among Friends based on a true story, who did Philby betray and what happened to the Cambridge Five? We reveal what you need to know…
*Warning: Spoilers ahead!*
Is A Spy Among Friends based on a true story?
Thriller lovers have been spoiled for choice so far in 2022 and plenty of the most gripping shows in recent months have dramatized real events, meaning many viewers might be wondering if A Spy Among Friends was based on a true story too. And just like what The Wonder was based on and the shocking events that inspired Where The Crawdads Sing - A Spy Amongst Friends is based on a book that was inspired by real events. A Spy Amongst Friends: Kim Philby and the Great Betrayal by Ben Macintyre was published in 2014 and became a bestseller.
So it's perhaps no surprise that this intriguing novel has joined the ranks of many of the best book-to-show and best book-to-movie adaptations now it's been brought to life on screen. Like the new ITVX show, the A Spy Amongst Friends book focused on the story of real-life British spies and close friends, Kim Philby and Nicholas Elliott. The two had both joined MI6 at the same time and had risen up through the ranks of the security service.
Philby (played in the show by Guy Pearce) and Elliott (played by Damian Lewis) were both British Intelligence officers during the Cold War. Only in 1963 it was discovered that Philby had betrayed his country and was actually one of the infamous "Cambridge Five".
This spy ring was responsible for leaking British secrets to the Soviet Union and according to author Ben Macintyre writing in The Times (opens in new tab), Philby was the first of them to be recruited back in 1934. And Philby's betrayal wasn't a one-time thing as he carried on leaking secrets for decades.
After his secret role as a double agent was uncovered, Philby fled to the Soviet Union to evade capture. But the discovery of his betrayal was something that his friend Elliott was involved in. He had remained a staunch defender of Philby's reputation when suspicions surrounded his friend after two other Soviet double agents, Guy Burgess and Donald McLean, seemed to have been warned that they were about to be questioned and fled to Moscow.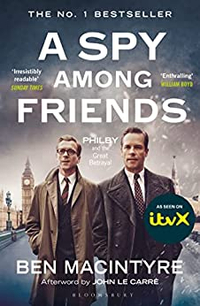 (opens in new tab)
A Spy Among Friends by Ben Macintyre £1.29 |Amazon (opens in new tab)
A Spy Among Friends tells the story of notorious double agent Kim Philby and the discovery by his two close friends, MI6's Nicholas Elliott and the CIA's James Jesus Angleton, that he wasn't who they thought he was. This biography explores themes of duplicity, trust and betrayal during the Cold War.
Philby was later cleared of tipping them off, but was pressured to resign from MI6 and began working as a Beirut-based journalist for The Observer. Years afterwards, the enduring suspicion that Philby was a double agent led to him being offered immunity from prosecution in return for a confession.
Elliott reportedly traveled to Beirut where Philby was in 1963 and met with him before managing to get a partial confession written by his former friend. It was a few days later that Philby managed to escape to Moscow and this escape and meeting is a huge part of the ITVX A Spy Among Friends series.
Who did Kim Philby betray?
During this time as a British Intelligence officer-turned-Cambridge-Five member Kim Philby betrayed his home nation in favor of providing the Soviet Union with secrets. According to Ben Macintyre writing in The Tim (opens in new tab)es (opens in new tab), the impact of Philby's actions was devastating and reportedly passed incredibly sensitive information that led to the loss of hundreds of lives.
The author of A Spy Amongst Friends reflected that it was Philby's betrayal of his friend Nicholas Elliot which became the primary focus of his book and which was in its own way just as shocking.
He expressed his belief that upon conducting his research for the book, "What emerged was a Cold War spy story unlike any other: Philby and Elliott were friends for most of their lives, but also enemies, although only one of them knew it."
"Most accounts had hitherto depicted Philby as a calculating, ideologically driven traitor, but he was more complicated, and more interesting, than that," Ben shared. "He was duplicitous but also generous, funny, intelligent and supremely charming: that peculiar English combination of charisma and manipulation. Philby wielded his charm like a weapon."
Where are Kim Philby and Nicholas Elliott from A Spy Amongst Friends now?
Kim Philby spent the rest of his life in Russia and died in Moscow in 1988. He was reportedly buried there with full military honors. His former friend and colleague Nicholas Elliott died a few years later in 1994 in London. Their lives, careers and the betrayal of Kim Philby were the focus of Ben Macintyre's A Spy Amongst Friends book and now the ITVX TV adaptation too.
Are any of the Cambridge Five still alive and who were they?
The Cambridge Five, sometimes known just as the Cambridge Spies, was a spy ring that passed secrets to the Soviet Union during the Cold War. Kim Philby was one of them and he was joined in the group by Donald McLean and Guy Burgess (who he was suspected of tipping off), as well as Anthony Blunt. The name was amended to become the Cambridge Five when it was alleged that John Cairncross was part of the ring, though this is still debated.
The group got its name because the members were believed to have all been recruited as spies whilst at the University of Cambridge. All of the known members of the Cambridge Five and Cairncross who was alleged to have been part of the group have now passed away.
Now you know the answer to the huge question - is A Spy Among Friends based on a true story? - there is plenty of time to make your way through every gripping scene and chilling moment of this new series.
All six episodes of A Spy Amongst Friends are available to watch now via ITVX.
Emma is a Senior Lifestyle Writer with six years of experience working in digital publishing. Her specialist areas including literature, the British Royal Family and knowing all there is to know about the latest TV shows on the BBC, ITV, Channel 4 and every streaming service out there. When she's not writing about the next unmissable show to add to your to-watch list or delving into royal protocol, you can find Emma cooking and watching yet more crime dramas.