Sophia Loren Stuns In Dolce & Gabbana's Newest Beauty Ad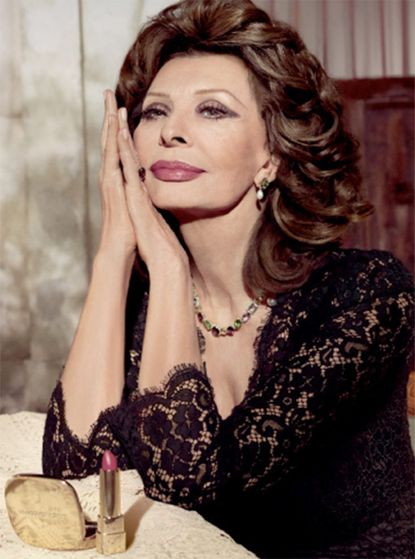 One day after her 81st birthday, the print and TV ads for Sophia Loren's eponymous, limited edition Dolce & Gabbana lipstick were released. The Italian screen siren stuns in the campaign, as she flaunts the bright cherry red hue called Sophia Loren N°1, which the designers described as "a loving tribute" to one of the most beautiful women of our time.
"[The lipstick] Sophia Loren N°1 is our way of saying, 'Thank you, Sophia!'" the designers, Domenico Dolce and Stefano Gabbana, said. "'Thank you for [your] beauty, thank you for being a world favorite, thank you for being an icon of the big screen and of Italian beauty.' She has been a constant source of inspiration for us and today we celebrate her with the gift of her very own lipstick."
But, it's not just a gift for Sophia. With its creamy finish and blue undertones, the gold-encased lipstick is a flatter-all red that makes teeth appear whiter and skin more youthful. The tribute is a match made in makeup heaven, pairing Dolce & Gabbana's signature glamour with the timeless beauty of an undeniable, inimitable icon.
She's the woman who once said, "Nothing makes a woman more beautiful than the belief that she is beautiful," and we can't think of an actress we'd rather see in a beauty ad. In footage from the behind the scenes of the shoot, Sophia looks calm and happy as she smiles for the camera, wearing an elegant, black lace dress and a delicate necklace.
Sophia's lipstick seems destined to become a collector's item for makeup lovers. The question is, will you be heading to a counter to snap one up? Let us know on Twitter (opens in new tab).
Dolce & Gabbana's Sophia Loren N°1 Lipstick is available now for £31.
http://www.youtube.com/watch?v=EdeqIsNuFng