Someone *very* unexpected has been invited to the Met Gala – inside their glamorous life and surprising fortune
The guest of honor had a close connection to the late Karl Lagerfeld, whose career will be the theme of the evening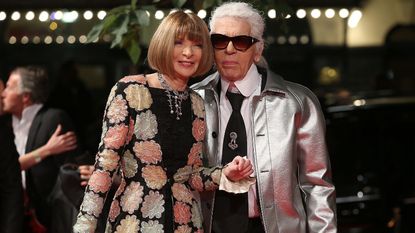 (Image credit: Mike Marsland/WireImage)
The Met Gala 2023 is fast approaching – always landing on the First Monday in May – and the rumors have already started.
First there's the apparent snub of the Kardashians. All of the famous family – including supermodel Kendall Jenner, business mogul Kim Kardashian and famous momager Kris Jenner - are expected to be shut out of the ceremony this year, despite making headlines for stunts like wearing Marilyn Monroe's iconic nude dress in past years.
Then there's the recent news that tickets now cost a reported $50,000 – up $20,000 on the usual prices.
But the news that we can't stop purring over involves one of the invited guests.
Karl Lagerfeld's… cat.
Yes, a cat. Choupette, to be exact, is the late designer's 11-year-old Birman. And Choupette will be swapping whiskers for Wintour as they've been invited to attend the annual gala at the Metropolitan Museum of Art which, this year, is a tribute to Karl.
The dress code for the occasion, which will be overseen as always by Vogue editor-in-chief Anna Wintour, is simply "in honor of Karl."
Choupette's agent – yes, the cat has an agent - Lucas Berullier confirmed to the New York Post that the fashionable feline had received a formal invite.
If a cat receiving an invite to the Met Gala seems like an unbelievable yarn, it gets even weirder when you factor in reports that Choupette has yet to RSVP.
The only person who can snub Anna Wintour and live to tell the tale. Or should that be tail…
Want to learn more about the cat that got the cream? Here's what we know about Choupette Lagerfeld.
Karl Lagerfeld first met his future muse Choupette in 2011, when he was looking after her for his model friend Baptiste Giabiconi.
Baptiste had to go on a vacation and wanted someone who could look after the cat when he wasn't around. During this time, Karl and Choupette bonded, and Karl's model friend knew soulmates when he saw them.
Or, less favorable reports suggest that Karl simply took Choupette. The Daily Mail suggests that, after two weeks cat-sitting, Karl simply told his model friend, "I'm sorry but Choupette is mine."
From cat sitter to cat burglar.
However it came to be, Choupette became Karl's – and her life was made. Soon Choupette became an internet sensation. She has Instagram accounts, an unofficial parody Twitter account, and millions of followers.
From her modelling work (again, really) to the money left in Karl's will set aside for her, Choupette is thought to be one of the richest cats in the world with a net worth of around $13M.
Sadly for Choupette, Taylor Swift's cat far outlaps her, with a reported net worth of $97M.
After the Met Gala in honor of Karl, the Metropolitan's exhibition - Karl Lagerfeld: A Line of Beauty -will open to the public on May 5, featuring more than 150 objects spanning the designer's six-decade career at Chanel, Chloé, Fendi, and his own label.
Jack Slater is not the Last Action Hero, but that's what comes up first when you Google him. Preferring a much more sedentary life, Jack gets his thrills by covering news, entertainment, celebrity, film and culture for woman&home, and other digital publications.
Having written for various print and online publications—ranging from national syndicates to niche magazines—Jack has written about nearly everything there is to write about, covering LGBTQ+ news, celebrity features, TV and film scoops, reviewing the latest theatre shows lighting up London's West End and the most pressing of SEO based stories.