Seven Kings Must Die ending explained and does Uhtred of Bebbanburg die in The Last Kingdom movie?
Wondering what happened in the Seven Kings Must Die ending? We've got you covered with all the heartwrenching details...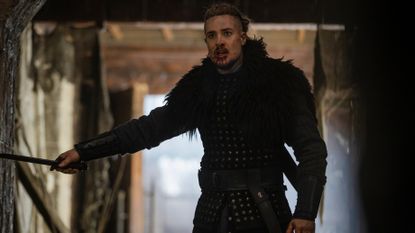 (Image credit: Courtesy of Netflix © 2023)
The Seven Kings Must Die ending rounds off Netflix's The Last Kingdom adaptation of Bernard Cornwell's best-selling novels in heart-breaking style.
Whilst news that there would be no The Last Kingdom season 6 likely left many long-time fans devastated, the release of the new The Last Kingdom movie couldn't come quick enough. Starring Alexander Dreymon once again as Uhtred of Bebbanburg and titled Seven Kings Must Die, the film takes a leap forward in time and centers on a violent battle to unite England under one ruler. If you loved the battle scenes in the main Netflix series then prepare yourself for even more dramatic action and heartbreaking losses as the story is brought to a close.
Here we explain what went down in The Last Kingdom: Seven Kings Must Die ending and whether or not Uhtred died in this epic historical movie…
*Warning: Spoilers ahead*
Seven Kings Must Die ending explained
Weaving together fictional The Last Kingdom characters with real historical figures like King Constantin II of Scotland (known then as Alba) and King Edward the Elder of the Anglo-Saxons, the Seven Kings Must Die movie brought the original Netflix series to an emotional conclusion. Focused once again around Uhtred of Bebbanburg, who was born an Anglo-Saxon but raised amongst Vikings, the fight is on for the throne. When King Edward dies, his rival sons Æthelstan and Ælfweard rise up to try and claim his seat of power for themselves.
Having been friends with the late King Alfred the Great (Edward's father), Uhtred is very much in favor of a united England under one ruler which was Alfred's dream. After Edward's death, his third son Edmund fled to Uhtred's home of Bebbanburg in Northumbria and told the warrior what was going on. Uhtred decided to join the fight, but not before hearing his friend Finan's wife Ingrith prophesize that seven kings must die before England is united.
Uhtred initially attempted to facilitate an understanding between Æthelstan and Ælfweard only for Æthelstan to stab his brother and claim his titles. By the Seven Kings Must Die ending the stakes couldn't be higher and Uhtred and Æthelstan had overcome their differences and joined forces against the invading Anlaf, King of Dublin and his allies.
Things had got more than a little personal by this point as Anlaf had invaded Bebbanburg and sealed people including Ingrith in a cave where they suffocated to death and were later found by Finan and Uhtred. Despite being massively outnumbered, Uhtred, his allies and Æthelstan took on the Scottish-Danish alliance at the Battle of Brunanburh.
In the battle many were killed and Uhtred himself was gravely wounded trying to protect Æthelstan. The other Kings involved ended up abandoning Anlaf to his fate and all their sons and heirs were killed, meaning their bloodlines would die with them. Finan helped Uhtred to return to Bebbanburg where they reflected that so far only six kings have died, leaving the prophecy made by Ingrith technically unfulfilled.
Uhtred then debated whether he could be the seventh as he had the unofficial title of King of Northumbria which he pledged to Æthelstan. This made Æthelstan King of all England and finally ensured that King Alfred's wish had come true and the country was united. Uhtred surrendered his title to him on the condition that Æthelstan would never have a child of his own and that the throne would pass to his brother Edmund peacefully when he died. This eventually happened in history and the real-life King Edmund became King of England in 939.
Does Uhtred die in the Seven Kings Must Die ending?
If there's one thing historical drama fans didn't want to see in the same year we've already watched Lucille leave Call the Midwife, it's Uhtred of Bebbanburg dying in The Last Kingdom movie ending. The Saxon-raised-Viking has been the anchor for all the 10th century action since season 1 of the show and his ending in the movie leaves his fate ambiguous, neither dead nor alive. It's up to fans to decide which path Uhtred took as the warrior narrowly escaped death after giving all he had in the Battle of Brunanburh. Thanks to his friends, Uhtred is brought back to Bebbanburg though he's gravely wounded.
As happened at the real-life Battle of Brunanburh in 937, King Æthelstan of England achieved victory. However, unlike in history where Æthelstan was already King of a united England and just solidified his position at the battle, in The Seven Kings Must Die ending he achieved it. Afterwards, Uhtred can't help reflecting on the prophecy that gave the Seven Kings Must Die movie its name.
Uhtred began to question whether he counted as one of the seven kings who must die, before being swept away by a vision that sparks the debate over his eventual fate. Seeing Valhalla - the feasting hall presided over by Odin which is the Viking conception of the afterlife for warriors slain - Uhtred is temporarily reunited with Brida and Haesten, his fallen friends.
Caught in the in-between realm, we don't know by the conclusion of the Seven Kings Must Die ending whether or not Uhtred actually dies of his injuries. Speaking about this plot choice with RadioTimes.com, The Last Kingdom star Alexander Dreymon expressed satisfaction with the way Uhtred's fate isn't confirmed in the movie.
"I'm actually very happy with the way that it ends because there's that ambiguity. You see everything that he's fought for his whole life and he's believed in… because the idea of Valhalla and heaven has been such a big character in the show in a way," he explained. "And that he has the option of going to the feast hall – that he aches for so much – is beautiful to see. But it really shows that he's a man who's had a full life and who is loved by the people who are still there."
Alexander described Uhtred being given the ultimate choice as a "big thing" for the character whilst screenwriter Martha Hillier explained that those working on the movie "leaned into the idea that we don't know the ending" and didn't form a solid conclusion. So ultimately, whilst some might be disappointed not to have a definitive answer over whether Uhtred dies in the Seven Kings Must Die ending, others might love being granted the opportunity to form their own opinion over his fate.
After all, this means if you don't want Uhtred of Bebbanburg to die then you can simply choose to decide that he didn't!
The Last Kingdom seasons 1-5 and Seven Kings Must Die are available on Netflix.
Emma is a Senior Lifestyle Writer with six years of experience working in digital publishing. Her specialist areas including literature, the British Royal Family and knowing all there is to know about the latest TV shows on the BBC, ITV, Channel 4 and every streaming service out there. When she's not writing about the next unmissable show to add to your to-watch list or delving into royal protocol, you can find Emma cooking and watching yet more crime dramas.