Selfies are banned at the Cannes Film Festival - but these fun-loving celebs broke the rule
Rules are made to be broken, as they say...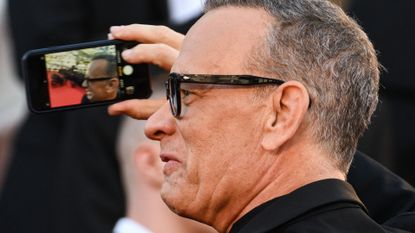 (Image credit: Getty Images)
Taking selfies at Cannes is banned, but some celebs snuck a few in anyway. Here are the pics to prove it...
If you were to attend the illustrious, annual Cannes Film Festival, it's important to be aware that there are a few arbitrary rules all guests must follow. For starters, no flats are allowed on the red carpet - all shoes worn by women specifically must be heeled. Yes, seriously - in 2015, a group of women was reportedly turned away from a screening of the film Carol because they weren't wearing heels, per ScreenDaily.
One also must be aware of a fairly new rule that was put in place in 2018 - absolutely. no. selfies. Photos can be taken on your phone, but there are specifically no selfies allowed.
The visionary behind this rule is the Cannes creative director, Thierry Frémaux, who must set a precedent for the artistic vision of the festival each year - and for the last four years, the #1 specification has been to abolish all Cannes selfies.
"On the red carpet, the trivial aspect and the slowing down provoked by the disorder which these selfies create tarnishes the quality of [the red carpet experience] and of the festival as a whole," Thierry told Le Film Français magazine in an interview published earlier this month ahead of the festival's start.
He also told the Hollywood Report back in 2015 that "You never look as ugly as you do in a selfie." Yikes.
People don't really seem to mind this rule, however - in fact, the whole cast of Top Gun: Maverick, took a group selfie together last year while on the red carpet.
Plenty of other celebrities have completely ignored this rule as well. Even Leonardo DiCaprio, who is a frequent attendee of the prestigious festival, has been seen taking selfies with fans on the red carpet.
We also have to note celebs like Adam Driver, Nicole Sherzinger, model Winnie Harlow, Bella Hadid, Tom Hanks, Elle Fanning, and even acclaimed, Oscar-winning director Guillermo del Toro, who have all broken this not-so-golden rule at Cannes.
Even some of the most classy of women have indulged in the act of selfie-taking on the Cannes red carpet, including some of our faves like Julianne Moore and Nicole Kidman (who also recently stunned on the Met Gala 2023 red carpet).
But seriously we kind of wonder if the stars are doing it on purpose to spite Thierry. You can decide on your own if selfies are truly ridiculous - or makes you ugly - as he says...
Madeline Merinuk is woman&home's US lifestyle news writer. She covers celebrity, entertainment, fashion, and beauty news but is also obsessed with internet trends - you can find her reciting trending TikTok sounds out loud at any given time.
After winning multiple student journalism awards for her investigative work, she graduated from Hofstra University in 2021 with a B.A. in Journalism. After graduating, she worked at today.com, the digital site for the Today Show, where she wrote pop culture news and interviewed big-name personalities like Emily Ratajkowski, Haley Lu Richardson, Emma Corrin, and more.
Her personal interests, in no particular order, are: cheese, Joni Mitchell, reading, hot yoga, traveling, having multiple chapsticks in every handbag at all times, and dancing to ABBA songs as if she were in the Mamma Mia movies.