See Paulina Porizkova go makeup free to celebrate her 58th birthday among best pals
Supermodel Paulina Porizkova posted a selfie with no makeup and wearing glasses during her birthday weekend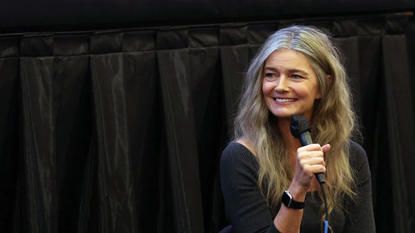 (Image credit: Kevin Kane / Contributor)
Another day, another Instagram post by supermodel Paulina Porizkova worthy of discussion.
This past weekend, Paulina, who recently started a new "old and ugly" photo trend on social medial, posted a pretty funny selfie on Instagram while on vacation, where she's not wearing any makeup while her hair is up in a messy bun and she's donning her glasses.
"What I look like from below, wearing my prescription glasses that shrink my eyeballs down to peas, with no makeup, while trying to do a selfie with our incredible ceiling in our rented Air B&B," wrote the 58-year-old supermodel in her caption. "Hope the BF doesn't see this one! 🤣"
Although the celebrity didn't mention where, exactly, her vacation is taking place, her followers focused entirely on her look wile on the road - and took the time to praise it.
"Love the unfilter. Filters are for water, coffee, cigarettes, motor oil, air conditioners, etc….,"someone wrote.
"You've given so many of us the courage to let our hair go grey and to naturally age," another follower commented. "I'm a 55 year old woman who had always looked 10 years younger until now."
Just a day later, Paulina, who actually celebrated her birthday this past weekend, posted yet another photo of herself, this one while hanging out at an airport.
"My 58th birthday is almost entirely spend on the road and in a plane getting back home," she wrote as a caption to the image before complaining about the service she received. "Since I'm traveling with my favorite people, no sweat! Until I get to the counter, and am told I do not get to sit with my friends, despite being early in checking in AND having paid extra to reserve seats, and instead I have a middle seat between strangers."
Stars, they're just like us, right?
All's well that ends well, though, as, yesterday, the mother of two uploaded yet another shot in connection with her 58th birthday.
"I begin 58 with nothing but sunshine and a smile," she wrote under a photo of herself while nude in bed with a teddy bear. "And the hope that the best is yet to come, and nothing but gratitude for all that has brought me here to the now. Thank you all so much for the birthday wishes! Although twenty hours of my birthday were spent traveling- it was SO worth it."
Paulina has much to be excited about. In recent months, the celebrity has made headlines thanks to her outspoken attitude towards a number of topics that are usually considered taboo among the Hollywood elite, effectively turning her into a champion of women's rights.
Back in March, for example, Paulina clapped back at the trolls who criticized her lingerie photos, urging women to embrace their beauty at every age no matter what they look like.
A few months before that, she got even more candid about getting older by revealing how aging helped her body image.
"From the perspective of an older woman, I look back at myself as young and I think what was there to celebrate?," the model said in an interview with Yahoo Life back in November. "I didn't have half my intelligence, I didn't have half my understanding, I didn't have my patience, I didn't have the character. Truly when they say that I was in my prime, the only thing about me that was prime was that my face did not have any wrinkles, I didn't have any on my body, that I was a smooth canvas."
She went on to argue that with age comes true, long-lasting, meaningful happiness.
"All the good stuff comes as you grow up," she noted. "So why do we celebrate youth to the extent that we do? I'm still looking for that answer. Like why do we worship youth? Why do women my age want to look 20 years younger?"
Honestly, can you think of a better spokesperson for age-related topics both within and without celebrity circles than Paulina? Happy birthday, dear!
.
Anna Rahmanan is a New York-based writer and editor who covers culture, entertainment, food, fashion and travel news. Anna's words have appeared on Time Out New York, the Huffington Post, Fortune, Forbes, Us Weekly, Bon Appetit and Brooklyn Magazine, among other outlets.