Salma Hayek asked the Magic Mike strippers over her house and her husband had the perfect reaction
Magic Mike's Last Dance star Salma Hayek reveals that husband French businessman François-Henri Pinault befriended the movie's strippers as well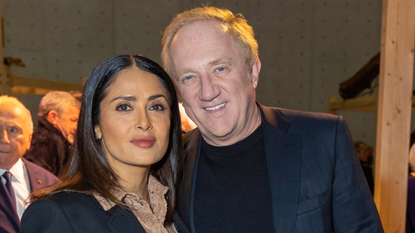 (Image credit: Luc Castel / Contributor)
In a new interview pegged to this weekend's release of Magic Mike's Last Dance, in which she stars as Maxandra Mendoza, Salma Hayek revealed that her and husband François-Henri Pinault both became friends with the cast mates that played strippers.
Lest you think her husband had a problem with that, think again. Salma, who recently opened up about how a Magic Mike lap dance "nearly killed her," told PEOPLE (opens in new tab) that the 60-year-old François-Henri "is not a jealous man." S
he went on to recount, "I used to call him all the time [from set] and say, 'Oh my God, I feel so bad,' because I had this predisposition about how the guys, the strippers were going to be. But they're not. They're lovely. They're such great guys. And [my husband] goes, 'Oh God, you're becoming best friends with the strippers, aren't you?' And I said, 'Yes!' "
The 56-year-old actress also revealed that her husband of 14 years stopped by on set a few times. "There was especially one [actor] who would come and ask [François-Henri] for advice for business," she said to the outlet. "He spoke French he knew everything about François. He says, 'I'm a big fan.' He reacted more to François than to me!"
The couple got so close to Salma's cast mates that they ended up inviting them over to their house as well!
"By the end of the movie they all came to the house," Salma said to the outlet. "They were all hanging out with me. Then François was saying, 'You're right, they're adorable, they're lovely.' "
In Magic Mike's Last Dance, Salma's character Maxandra is a wealthy socialite going through a divorce who decides to produce a stage show in a London theater featuring, of course, strippers on stage. After a chance meeting in Miami, Maxandra turns to "Magic" Mike Lane, played by Channing Tatum, for help to turn her dream into a reality.
Speaking of Channing, who is actually behind a Ghost remake that fans are super excited about, Salma also went on the record about her impression of the 42-year-old actor.
"He's like a Southern gentleman and he cares about that," she said to PEOPLE. "Because he's so cool and goofy and funny. He can be that. Or he can also be very smart and intense and focused," says Hayek Pinault. "He's always kind. ... And I told him, I said, 'Your mom taught you well.' I think that normally comes, most of the times, from the mother. I think that is true. He's very respectful and he's very thoughtful."
While promoting her latest Hollywood endeavor, Salma has caught everyone's attention through her stellar fashion choices as well. She recently stunned in an incredible scarlet Vivienne Westwood dress, for example, and looked incredible at pal Marc Anthony's recent Miami wedding in a plunging green gown that everyone is still talking about.
The actress has also been using her clout to shed light on issues that are by many considered to be taboo. During an appearance on Red Table Talk with Jada Pinkett Smith a while back, for example, Salma got candid on menopause, discussing the various symptoms she experienced and the reaction her doctors had.
"They [the doctors] were asking me things like, 'Are your ears growing, and is there hair growing out of them? Are you growing a mustache and a beard? Are you easily irritable? Are you crying for no reason? Are you gaining a lot of weight really fast that doesn't go away no matter what you do? Are you shrinking?' And then they ask you, 'Is your vagina dry?'," Salma remembered, dissecting a subject very familiar to women all across the world.
Anna Rahmanan is a New York-based writer and editor who covers culture, entertainment, food, fashion and travel news. Anna's words have appeared on Time Out New York, the Huffington Post, Fortune, Forbes, Us Weekly, Bon Appetit and Brooklyn Magazine, among other outlets.