Prue Leith reveals she's ditching big family Christmas for exotic getaway this year
Prue's not having a traditional Christmas this year...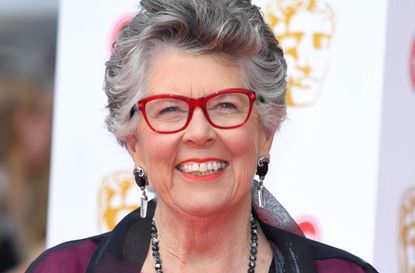 Great British Bake Off judge Prue Leith has revealed she and her husband are jetting off to India for an exotic and very different Christmas in an exclusive chat with Woman & Home.
The cooking pro lives with her husband John Playfair in their country home in the Cotswolds, where they've been settled for 40 years.
But instead of a traditional Christmas at home with her family, Prue and her hubby are opting for a jet set trip across the globe.
She revealed, "We're going to India for Christmas- my husband and I are sneaking off this time.
"We normally have huge family Christmases, but this year, I don't know why, we decided to go to Kerala. It'll be so much fun."
READ MORE:Mary Berry reveals she had multiple boyfriends while dating husband Paul Hunnings
Christmas in Prue's house sounds like a delicious affair though, with the mum-of-two and grandmother-of-four revealing a special decorative trick she loves to do during the festive season.
"Decorating the tree is one of my favourite things to do. Every year we have what we call a sweetie tree, which is a bare branch that I tie Quality Street toffees to.
READ MORE:Strictly Come Dancing's Shirley Ballas reveals she wants to be proposed to this Christmas
"They look absolutely wonderful because they glitter, although the children demolish them very fast!"
Sharing her thoughts on her ideas for presents for her young grandkids, Prue explained that she feels that simple presents are the ones that mean the most.
"I'd love to give the grandchildren something they'd value. They have so many presents that don't last very long, so I like to give something very simple, like a Bagatelle board. Or maybe a good children's cookbook would be nice."
Read Prue's full interview in the December issue of Woman & Home