Mary Berry reveals she had multiple boyfriends while dating husband Paul Hunnings
The baking star said she was keeping her "options open"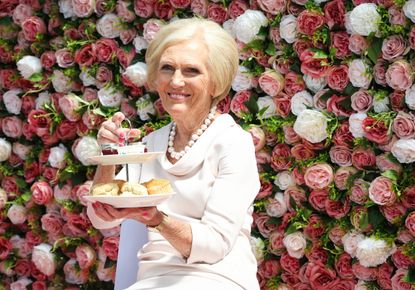 She may not be in the Bake Off tent anymore but our love for Mary Berry is stronger than ever - particularly after a recent revelation.
Mary Berry has revealed she dated multiple men when she was first going out with her now-husband Paul Hunnings.
The surprising statement came from the cookbook writer during an appearance on Sue Perkins' An Hour or So With podcast.
The national treasure said she was keeping her "options open" at the time.
On the podcast Mary said, "Paul was a friend of my brother's. And I met him and we sort of did things together.
"But I had another boyfriend in Bath, and he was in London and I used to go home at the weekend... Paul was the London one and I had a Bath one, actually there were several in Bath.
"You keep your options open. To cut a long story short, we (Paul) have been married 50 years and I wouldn't change a thing really."
Mary went on to marry Paul in 1966, following three proposals.
The pair married at Charlcombe Church, near her parents' home in Bath and had three children together - Thomas, Annabel and William.
Back in 2017, the couple spoke about their 50 plus years of marriage on a special edition of her BBC show Mary Berry Everyday.
The former Bake Off star shared more of her cheeky antics on the podcast.
She also revealed that she wasn't the most well-behaved student in school.
"I was naughty. We had to walk to school and I would be looking in the garden, patting the dog and I would often arrive late," said the baking star.
"Homework was something that was left on the shelf, or didn't actually get home, or if it did, I would say 'No homework today.'"
Mary's baking career took off in the 1970s but reached new levels of fame when she starred as a co-judge on the Great British Bake Off.
She featured in the BBC series for seven seasons, alongside Paul Hollywood.
Lizzie Thomson is a regular contributor to woman&home, and also contributes to Metro.co.uk, Ideal Home, Culture Trip, and Evening Standard, covering all things lifestyle.