Prince once started his concert an hour late because he was waiting for this celebrity power couple to arrive
How could anyone keep Prince waiting?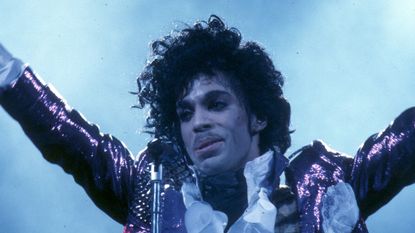 (Image credit: Michael Montfort/Michael Ochs Archives/Getty Images)
Turns out, celebrities really are just like us—sometimes running late to concerts. Just ask Javier Bardem, who recently revealed that he and wife Penélope Cruz caused Prince to start his concert one hour late because they didn't get to the arena on time.
Javier recounted the episode on The Tonight Show Starring Jimmy Fallon, where he appeared to promote his latest (and very good!) new movie Being the Ricardos.
"[Prince] invited us, Penélope and I, and Jordi Mollà, who is a good friend of ours, another actor, to have dinner before the show," Bardem told Jimmy. "And then we were having dinner and we took the dessert and we were having a drink, two drinks and we were like, 'Nobody's coming here to pick us up.' So I step out of the room and I said, 'Hey, we are here.' 'Ah, are you finished?' 'Yes.' Then Prince came and said, 'Are you done?' So he told us to go to the seats, we were accompanied to our seats and then the show started. And we were like, 'Oh, my. They've been waiting an hour for us to finish the dinner!'"
---
The 52-year-old actor then apologized to both Prince and all concertgoers for delaying the night, promising that he wasn't aware of the situation as it was unfolding.
But the Prince-related tale isn't the only concert experience that Javier spoke about on his virtual appearance on the late-night show. In fact, the Academy Award-winning actor also told Jimmy about the time he went on stage with Bono during a U2 concert while donning a purple feather boa and a cowboy hat.
"My version of the story is very simple. Bono asked us, 'Hey, guys, we are playing in Barcelona and we are bringing, like, 10 people. Would you like to get on stage?' And I said, 'Yes!' [Penélope] said no at the time. And then I said to Bono, 'Bono, the only thing that I wanted to tell you is that if I get on stage, some people may not like that.' He says, 'Okay, do whatever you have to do,'" Javier recounted. "So I put a hat on. I put on a purple boa. I do my most erotic movements as I could imagine. Because the song was Mysterious Ways. And then, of course, the song finishes and then I took the hat off and the whole stadium was like, 'Boo!'"
Funnily enough, performing live was part of Javier's role in the Aaron Sorkin-directed Being the Ricardos, in which he plays Lucille Ball's husband Desi Arnaz. The star did, however, admit that he actually lied about being able to play both the guitar and the conga in order to land the part.
Alas, it's all in the past—as proven by the critical praise his excellent performance is receiving.
Anna Rahmanan is a New York-based writer and editor who covers culture, entertainment, food, fashion and travel news. Anna's words have appeared on Time Out New York, the Huffington Post, Fortune, Forbes, Us Weekly, Bon Appetit and Brooklyn Magazine, among other outlets.