Phillip Schofield in tears during final goodbye to Holly Willoughby on This Morning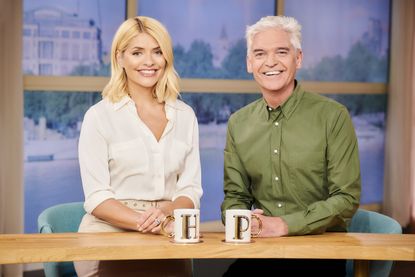 Emotions were running high for Phillip Schofield during today's episode of This Morning, when he said goodbye to Holly Willoughby.
The hilarious presenting twosome are set to leave the smash hit ITV chat show for two months in order to enjoy their annual summer break.
They'll be replaced by their usual stand-ins, Ruth Langsford and Eamonn Holmes, during their time off and they pair appeared on screens for the final episode of the series today.
As the episode neared its end, Holly and Phillip reflected on the past months and watched a montage of "best bits".
A series of clips showed the emotional moment Phillip came out as gay back in February, plenty of footage from the socially distanced shows filmed in lockdown as well as an interview with Boris Johnson from back when he told us to wash our hands in order to prevent the pandemic.
The heartfelt video looked back on interviews conducted by Holly and Phil following the tragic death of George Floyd as well as footage of 100-year-old Captain Tom Moore's fundraising achievements.
In the final few minutes of the programme, the duo thanked the This Morning cast and crew for all their hard work.
"We often talk about our This Morning family on screen, but that family genuinely extends behind the scenes and we've all kept each other going through these really tough times," Phil said.
He then appeared to be choking up with tears as told his beloved co-star Holly, "Hopefully by September I can give you a hug".
As the iconic silver fox fought back his visible emotions, Holly signed off for the final time for a while as Phil reached for a sip of champagne.
Over on Twitter, lots of viewers were sending their love to the This Morning cast, thanking Holly and Phil for keeping them smiling throughout lockdown.
'Thank You Phillip and Holly for your company during this strangest of times....you've helped us make sense of things and kept us smiling....God Bless,' one penned.
'#ThisMorningwon't be this same without Holly&Philip, how i am gonna cope till September,' agreed another.
'A big thank you to@Schofe and @hollywills for constantly lifting peoples spirits during lockdown and making us smile. Hope you both have the best summer that you possibly can. Roll on September! #ThisMorning,' a third sweetly added.
Others weren't so sympathetic though, with many pointing out that Holly and Phil are off for a long, paid break.
'That most be nice job, to have such breaks and get paid GOOD Holly and Phil,' one Tweeter wrote.