Pedro Pascal's go-to-Starbucks order is making our heads spin
A fan of The Last Of Us posted a TikTok video featuring actor Pedro Pascal's very intense Starbucks order and the Internet can't stop talking about it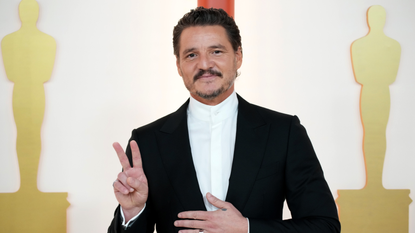 (Image credit: Jeff Kravitz / Contributor)
Actor Pedro Pascal's Starbucks order has just gone viral - and for good reason.
The 47-year-old star of HBO hit The Last Of Us is the subject of Internet chatter following a TikTok video posted by a fan from the streets of New York during a chance encounter with the celebrity.
"Daddy needs his coffee every morning to carry the entire world and a fandom over his shoulders," reads the caption of the upload.
As the Internet is wont to do, social media users quickly zoomed into the Starbucks cup that Pedro is seen carrying in the video to figure out what his preferred order is.
Get ready to shake in your boots: Pedro was seen drinking an iced quad espresso in a venti cup with extra ice and six shots - which amounts to about 384 milligrams of caffeine in total. Considering that the United States Food and Drug Administration recommends the consumption of no more than 400 milligrams of the stimulant a day, Pascal's order seems… extreme?
Given fans' obsession with Pedro's character on The Last of Us, it's not surprising that just about everyone has taken to social media to express concern over the actor's relationship with java.

"Tried pedro pascal's coffee order. it was such a mistake," someone commented on Twitter.
"i ordered pedro pascal's coffee order and i feel like i'm gonna jump out of my skin," yet another noted.
"Everyone makes fun of Pedro Pascal's coffee order until the Monday after Daylight Savings hits," a third user joked on the platform.
For what it's worth, Pedro himself seems to find the entire thing amusing and he is clearly in on the joke - which makes us love him even more.
Spotted leaving the gym with a coffee in hand a few days after the video that sparked the conversations first went viral, Pedro was asked by a paparazzi photographer how many shots of coffee were in the drink he was carrying at the moment.
"Twelve!," joked (we think) the actor in response.
Considering how busy Pedro has been lately and all the projects he's got coming up, it's no surprise he relies on caffeine so much.
In addition to starring in the Last of Us, which has become one of the most popular shows in the history of HBO, the Chilean-born American actor is also part of the cast of The Mandalorian, which currently airs on Disney+, and is set to appear in Strange Way of Life opposite Ethan Hawke. The upcoming western short was written and directed by Pedro Almodóvar as, reportedly, a response to the 2005 film Brokeback Mountain, which the director was initially supposed to take on.
Anna Rahmanan is a New York-based writer and editor who covers culture, entertainment, food, fashion and travel news. Anna's words have appeared on Time Out New York, the Huffington Post, Fortune, Forbes, Us Weekly, Bon Appetit and Brooklyn Magazine, among other outlets.