'I enjoy every moment of what I do' Nadiya Hussain reveals why she'll never stop smashing stereotypes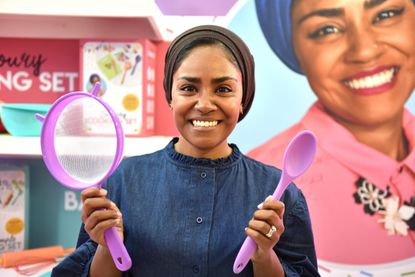 (Image credit: Getty Images)
TV chef and author Nadiya Hussain talks to Georgia Farquharson on balancing fame with mental health and why she hopes to never stop smashing stereotypes.
Five years ago Nadiya Hussain was just like lots of mums – baking for fun on a weekend while raising her three children. Today she's the most successful winner of The Great British Bake Off and, with Mary Berry's blessing, hopes to be doing this job when she's 80.
But she's still human. And, like many of us, Nadiya admits she has struggled with lockdown life. When we chat to her over the phone, Nadiya, as someone who hates doing nothing, confesses she's still struggling to maintain a routine. However, the bubbly chef is trying to remain positive and enjoy the break she didn't know she needed.
When she entered The Great British Bake Off in 2015, it was her husband's idea, as a coping mechanism to soothe her anxiety. But rather than just being one of 12 amateur contestants with a keen knowledge of baking, Nadiya's part on the show became predominantly about her ethnicity.
READ MORE: How to stop a panic attack from women who have overcome them
It was the first time she ever felt 'different', and she suddenly feared how she would be perceived.
Five years on, Nadiya, 35, is described as someone who is 'smashing stereotypes' – and it's a title she wears with pride.
Being in the limelight means you're open to scrutiny all the time. I think being a woman and a British-born Bangladeshi means I have a thick skin, but when you work in the public eye your life is there for everybody to see. I have experienced trolling, but I've come to accept that I might get abuse, but I don't have to allow it to chip away at me.
I've suffered with anxiety since I was a really young age. I remember an entire childhood of being concerned about everything. I've had to call an ambulance on occasions because I thought I was having a heart attack during a panic attack.
Body confidence doesn't come naturally. But I look back on myself at 18 and wish I hadn't called myself fat. This body has given me three beautiful children.
My fame has had an effect on my daughter. We've had incidents where she's been in fits of tears because the crowds have got too big and people can start hassling you a bit. It once took me three weeks to get her out of the house with me again – she's only nine.
To have people say I'm a role model is so unexpected. The responsibility used to make me really nervous, but now it's like a badge of honour. Growing up as a Muslim woman, I didn't have anybody that I could look up to. This career is so much more than just cooking and baking. If I don't continue doing what I'm doing then I won't create the space for other people. So it's really important for me to smash stereotypes and keep shattering them, until this is completely normal.
Nadiya Bakes by Nadiya Hussain (£22, Michael Joseph) is published on 1 October and is available to pre-order now. Time to Eat by Nadiya Hussain (£20, Michael Joseph) is out now.
For our full interview and shoot with Fern, pick up the August issue of woman&home on sale from 2 July
Georgia writes across Woman & Home and Good to Know and specialises in all things royal. Previously labelled the "Queen of the royals," Georgia knows the whose who and what's what when it comes to the monarchy. When she's not eagerly following the royal family, Georgia enjoys shopping and self-care. She lives with this motto in mind; "if your dreams don't scare you, they aren't big enough."