Nadia Sawalha tears up as she discusses her complicated relationship with sister Julia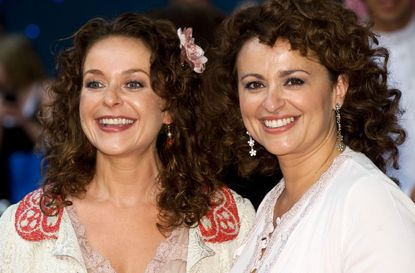 (Image credit: Getty)
Loose Women panellist Nadia Sawalha has opened up about her relationship with her sister Julia in an emotional moment live on the ITV chat show.
The former EastEnders actress, 54, was visibly emotional as she revealed all about her bond with her younger sibling Julia, 50, who is best known for playing the role of Saffy in nineties British sitcom, Absolutely Fabulous.
After detailing the hardships of losing her first husband, Justin Mildwater, to suicide in 1997, she went on to talk about her connection with Julia.
MORE:5 things you didn't know about Nadia Sawalha
Although she explained that the pair have a 'stormy relationship', Nadia confessed that she's in awe of her sister, saying, "My mum got pregnant with Julia and I was so excited as there are four years between Julia and I, and my mum then had her and freaked out so sent me away to my grandmothers.
She says when she looked back at it, "what was I thinking?"
"But there you go. And so I think because of that, my younger sister and I have always had a really stormy relationship. She's totally amazing.'
With tears filling her eyes, Nadia admitted that although she and Julia have had tough times, they have shared some wonderful ones too.
"Sorry, it's emotional. She's amazing my sister, but we've always had a really volatile relationship and have always had periods of time in our lives where we don't speak.
"But I also have the worst time or best time in my life with her.'
Mum-of-two Nadia recently opened up about her experiences of stardom after joining EastEnders to play Annie Palmer back in 1997, during a time where tens of millions tuned into the soap.
MORE:Nadia Sawalha leaves fans emotional with touching tribute to her parents: 'Beautiful'
Speaking on her YouTube channel, she explained that Ab Fab star Julia already being accustomed to the TV industry and being the daughter of actor Nadim Sawalha helped her transition into a life in the spotlight.
She said, "I was very lucky because I came from a family that had always been in the film business. My dad was an actor and my sister was very famous in Absolutely Fabulous, so I had a bit of a sense of what it was like. But still it was a bit of a shock."