Nadia Sawalha's husband reveals how he really feels about her hair going grey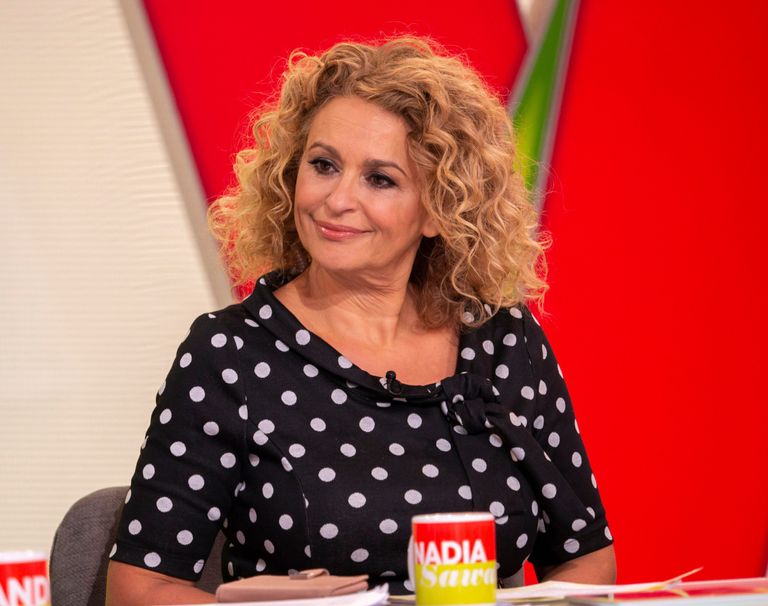 By Amy Hunt
Nadia Sawalha is without doubt one of the most honest celebrities around, and recently, she's chosen to open up to her social media followers about her greying hair.
The 53-year-old posted a candid video on her Instagram, taken during a family camping trip, where she showed viewers the most honest look at her grey hair yet.
Fresh out of the shower, Nadia was observing her increasingly greying locks, when she asked her husband Mark Adderley how he felt about her hair as it is now.
Looking in the mirror, she stated, before turning to her husband, "My god babe look, look how white I am."
Continuing to paw at her roots, she asked him, "Does that scare you, me being seven years older? Does that scare you?" Nadia is 53, while her husband of 16 years Mark is 46.
But it seems he couldn't be less fazed by his wife's changing hair colour, responding, "No, I like white." His answer appeared to shock Nadia, who asked, smiling, "Really?"
Mark went on to explain, "No, I don't mind white. It's who you are. It's a natural development. I know your mum would say 'Do not ever, ever allow Nadia to go grey!'"
However, Nadia didn't seem entirely convined that Mark's response was honest, writing in the caption of the video, 'is @mark_adderley telling me the truth or us he just trying to prevent another #HowToStayMarried argument?!'
Loose Women star Nadia then opted to ask her youngest daughter Kiki what she thought of her greying roots. And, responding just like any other normal teenager, she bluntly replied, "I don't care", leaving Mark and Nadia in fits of laughter.
Nadia's followers were quick to share their own thoughts on grey hair, with many saying that they love Nadia's natural hair.
One fan wrote, 'Beautiful with or without grey hair x'. Another agreed, commenting, 'I love the grey, let it grow through, honestly you'll love it.', while a third said, 'Grey is distinguished let it go 👍'
But when Nadia posed the question of whether to go grey gracefully, many urged her to dye her hair back to her natural colour, with one joking, 'No definitely not grow older disgracefully 😂 😂'.
It's not the first time Nadia has opened up about her changing hair colour. She revealed her grey roots on Loose Women just a few weeks ago, and won widespread praise from viewers.
What is your take? Do you want to go grey gracefully - or could you not think of anything worse?