Could you be the new face of JD Williams? Enter their 'midster' model competition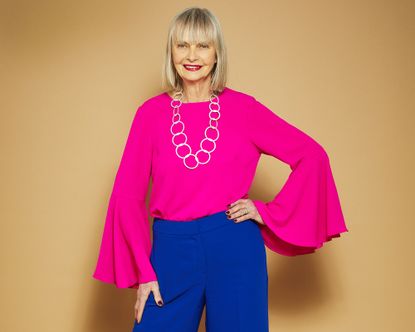 Do you have what it takes to become the UK's next top midster model?
We're partnering with leading agency Models 1 to find two women aged 45 or over who will inspire customers and be part of future JD Williams campaigns.
Excitingly, you'll also feature in awoman&homefashion shoot.
The competition comes on the back of the news that more than a third of British women feel ignored and unrepresented by the fashion and advertising industry- something Models 1, JD Williams andwoman&homeall want to change.
Ready for your close up? Here's everything you need to know...
How to enter
In order to enter the JD Williams Midster Model search, all you need to do is email two photos of yourself, along with your full name & your age, topress.office@nbrown.co.uk.
Alternatively, you can post your photos on Instagram using the hashtag #JDWMidsterModel.
For your photos, you will need to provide:
- A close up head shot
- A full length body shot
Don't forget a caption! Talk about you and your colourful, exciting midster life.
The competition is open to women aged 45 and over,
Not keen on being in front of the camera yourself but know someone who would be ideal? Friends and family can also nominate the midster woman in their life in the same way.
Meet the judges
The judging panel includes original supermodel Jan De Villeneuve, 73, and celebrity photographer Nicky Johnston (both pictured above), who will whittle the finalists down to two winners.
Models 1 will also lend their scouting expertise to the search, scouting for suitable models across the UK.
Jan - who is one of a number of mature models, along with the likes of Isabella Rossellini and Daphne Selfe, who still regularly grace the pages of glossy magazines - revealed what she is looking for as judge.
"As someone who has modelled themselves, I know how it feels to be starting out in this industry and can bring a level of empathy to the panel," she said.
"I'm looking for someone who can show us their personality through the way they move and pose."
Meanwhile,Britain's Next Top Model judgeNicky encouraged people to enter on their nearest and dearest's behalf, saying, "If you have always been telling your Mum she should model, or you have a friend you think fits the criteria, then get applying!"
The prize
The two winners will...
- Walk the catwalk in JD Williams' fabulous live fashion show in September
- Represent the brand and feature in our future campaigns, including a spread inwoman&home
- Receive £1000 worth of JD Williams goodies
For (opens in new tab)more information, visit jdwilliams.co.uk/jwdmidstermodel (opens in new tab).
Stephanie is Editor of Fit&Well. She has previously worked for titles including Now, MSN and Stylist, covering all aspects of women's lifestyle including health and fitness.