Martha Stewart wants to be your next Bachelorette, apparently
The queen of the kitchen is also pining to be the queen of a handsome man's heart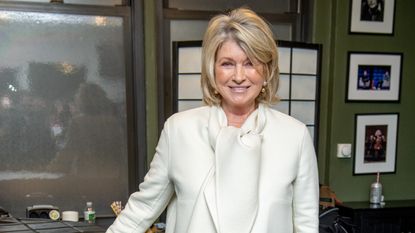 (Image credit: Getty)
Here's what Martha Stewart recently had to say about her desire to star on a Bachelorette spin-off - and what terms she would require to do so.
Even at 81 years old, Martha Stewart has no issue expressing her feelings on love, relationships, and even sex - after all, she just posed for Sports Illustrated's Swimwear cover, marking her as the oldest woman to ever pose for the cover, and she looked damn good doing it.
But Martha might just have a new venture, and it's not career related - she could end up on TV looking for love if her latest comments are anything to go by.
As of Tuesday, ABC announced that a new spin-off of The Bachelor called The Golden Bachelor is coming to our screens - the series will serve the same function as The Bachelor and Bachelorette 2023, but for senior citizens. Apparently, Martha Stewart could want in on the show, but only on certain terms.
While speaking with Variety about her cover shoot for Sports Illustrated, she mentioned that she would be open to being on the show, but only if she could see the men first.
She also said, however, that she is incredibly busy and focused on her career and cultivating the other aspects of her life before she can focus on dating. "I'm very busy," she told Variety. "I have my beautiful cooking, entertaining, and gardening shows which I'm very interested in so I don't think I would do a reality dating show."
She's had some pretty hilarious comments about dating in the past, even going as far to say on the podcast Dear Chelsea in July 2022 that she wishes her friends would die so that their partners would become available. Only Martha.
She also said that, despite her incredible, history-making cover shoot for Sports Illustrated, she had never and would never consider posing nude, especially for a magazine such as Playboy. "I would never have done Playboy because I found that a very improper magazine because I was brought up a prude," she said. "We were very conservative. When we changed our clothes, we closed the bedroom door. We were not overt."
Even with a momentous cover shoot, people still have chosen to comment on Martha's physical appearance, inquiring whether she's ever had facial tweaks in the past.
She revealed that she's had "no plastic surgery whatsoever," despite what people are often speculating about the kitchen aficionado. "I have very healthy, good hair. I drink green juice every day. I take my vitamins. I eat very healthfully. I have very good skin doctors. I'm very careful in the sun. I wear hats and I wear sunblock every single day," she said.
Perhaps her potential future husband on The Golden Bachelor would be interested to learn more from Martha's healthy habits...
Madeline Merinuk is woman&home's US lifestyle news writer. She covers celebrity, entertainment, fashion, and beauty news but is also obsessed with internet trends - you can find her reciting trending TikTok sounds out loud at any given time.
After winning multiple student journalism awards for her investigative work, she graduated from Hofstra University in 2021 with a B.A. in Journalism. After graduating, she worked at today.com, the digital site for the Today Show, where she wrote pop culture news and interviewed big-name personalities like Emily Ratajkowski, Haley Lu Richardson, Emma Corrin, and more.
Her personal interests, in no particular order, are: cheese, Joni Mitchell, reading, hot yoga, traveling, having multiple chapsticks in every handbag at all times, and dancing to ABBA songs as if she were in the Mamma Mia movies.