Mariah Carey wore an evening gown in the pool to celebrate the anniversary of her famous album
It's been 17 years since The Emancipation of Mimi came out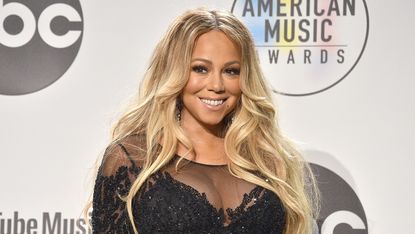 (Image credit: David Crotty/Patrick McMullan via Getty Images)
Mariah Carey opted for the most fabulous way ever to celebrate the 17th anniversary of her hit album The Emancipation of Mimi alongside the success of her Big Energy remix with Latto and DJ Khaled.
In a 21-minute-long Instagram Live video, Mariah, who recently celebrated her COVID-19 vaccine on camera, is seen wearing a red evening gown with gold earrings and a stack of diamond bracelets on each arm. The superstar is donning the outfit while sitting in a pool, with waves very slowly washing over her.
"Celebrating The Emancipation of Mimi and Big Energy Remix with the lambily!!!," Mariah captioned the video, referring to her group of fans by the moniker she made up years ago, a combination of the words "Lamb" and "family."
"I never get to celebrate the anniversary of these moments," Mariah said in the clip, urging her fans to share their favorite song from the 2005 record, which featured tracks like We Belong Together, It's Like That and Shake it Off, among others. "That album meant a lot to me. A lot of people have told me that it kind of helped them through their stuff. It was a tough road prior to Mimi, you know we went through some things."
Throughout the video, the singer sipped on her own new liquor, Black Irish (a nod to her Black father and Irish mother). A slew of guests also appeared alongside her, including her boyfriend, Bryan Tanaka, and her 10-year-old daughter, Monroe Cannon, whom she shares with ex-husband Nick Cannon.
Speaking of kids: just a few weeks ago, Mariah entertained her followers by sharing a very relatable parenting moment on Twitter. While she was on an important conference call, the star received a text message from one of her kids (it was 8:11pm at the time). "Mommy please can I wear nails with glue," the first message read. After Mariah's response, a resounding "no," her child responded, "why." The artist shared a screenshot of the conversation on Twitter and fans were obviously delighted by the exchange.
Congratulations to Mariah on her two celebratory achievements—and her always hilarious (and very relatable!) parenting moments!
Anna Rahmanan is a New York-based writer and editor who covers culture, entertainment, food, fashion and travel news. Anna's words have appeared on Time Out New York, the Huffington Post, Fortune, Forbes, Us Weekly, Bon Appetit and Brooklyn Magazine, among other outlets.